Rating: 3/4
Suicide Squad was a hot mess, filled with great actors whose performances were destroyed quicker than a comic book left out in the rain. However, the character Harley Quinn—in her manic glee—seemed more than salvageable from the film's incomprehensible clutter. It seems fitting, considering Jared Leto as the Joker sent his castmates dead rats and condoms, in a look-at-me effort born from a male toxicity common for lead actors looking to take credit from their more than capable female co-stars, that Quinn would be extended a life raft. In Cathy Yan's Birds of Prey (and the Fantabulous Emancipation of One Harley Quinn), the character is reborn. And while the giddy action flick is far more an assemblage of fun scenes rather than a cohesive creation, its fighting choreography and the zaniness of Quinn uplift it into an entertaining, if flawed, romp.
Like the character, Birds of Prey is a tale of two halves. The first section careens as a disarrayed overwrought vehicle for Harley Quinn (Margot Robbie). Recently separated from the Joker, Quinn is trying to reconstitute her life. She's spent so much time relegating her needs to the Clown Prince of Crime, that she's forgotten how incredible she is. A former psychologist who fell in love with her patient and dumped herself in a vat of chemicals, she's now traveling through the world mostly unimpeded: A wrecking ball of dyed pigtails and glitter bombs, she's taking possession of whatever suits her fancy. She also provides voiceover for much of this action flick.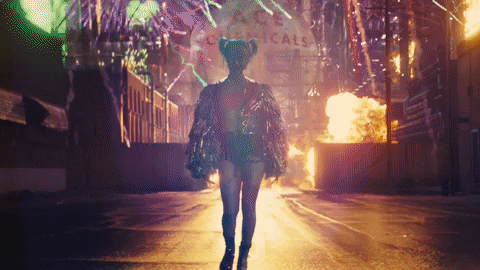 Through her narration, we're introduced to the supporting cast. There's Renee Montoya (Rosie Perez) whose detective career has stalled because a male colleague, now her boss, took credit for a case she cracked years ago. There's also the crossbow wielding yet socially awkward Huntress (Mary Elizabeth Winstead, who's not featured nearly enough); and the songstress Black Canary (Jurnee Smollett-Bell). Their worlds all revolve around Roman Sionis (Ewan McGregor), a psychotic millionaire and club owner with a mercurial temper and penchant for carving off the faces of his victims. Montoya wants to arrest him; Huntress is trailing him for reasons initially unknown; Black Canary hopes to flee from him; while Quinn is avoiding the hit he has on her. Moreover, they're all after a valuable diamond that's been stolen by a young teen Cassandra Cain (Ella Jay Basco).
If that sounds like a lot, it is. Though Quinn's narration guides audiences through much of the backstabbing and bounty hunting, she does so in non-linear fashion. To a point, Birds of Prey's timeline is meant to match the manicness of Quinn. But with regards to storytelling, the effect is sometimes unnerving, as we veer back-and-forth to re-explain characters rather than relying on their development to naturally arise through the narrative. In fact, Robbie and McGregor very much carry the first half of the film. Robbie's Harley Quinn not only shows greater independence, but also introspection. And between her stealing a hyena or ordering the #37 spicy at her favorite restaurant, screenwriter Christina Hodson often offers her legit instances of perception—such as her performing psychoanalysis on a few characters. Conversely, McGregor is so camp it hurts in the best of ways. Joyfully demented, McGregor energetically sashays on a violent yet comedic edge.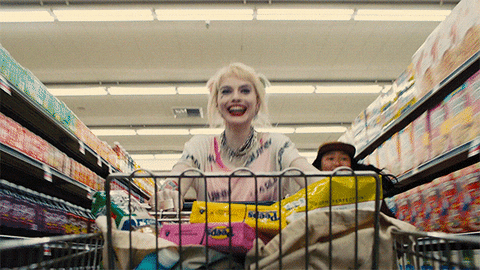 Birds of Prey doesn't firmly perch itself until the cacophonous second half, where the fight choreography and the biggest fun takes place. Some might compare the film to John Wick, but the fight choreography and shooting are different. Yan and cinematographer Matthew Libatique employ full shots rather than extreme close-ups to capture the positive and negative space on the screen. This results in a full immersion into the world of Harley Quinn, and a capturing of her massive flips and roundhouse kicks (with a really great pay-off and one of the best final deaths I've seen in a while).
The second half of the film also witnesses Quinn as a mentor to Cassandra: a girl who's never heard of the Joker, but knows exactly who Quinn is (I seriously want a live stream of Leto watching Birds of Prey). Here, men are self-absorbed dweebs and the women are far more interesting and share a feminist bond. These moments range in size, from large to small: Black Canary saving Quinn from a drunk creep to Quinn loaning her a hairband during a later fight. These women band against the loathsomeness of men: the background spousal abuse happening in Cassandra's home and the reign of terror and control imposed by Roman. It makes every one of their actions: shopping at the supermarket or ordering an egg sandwich, into a freeing experience.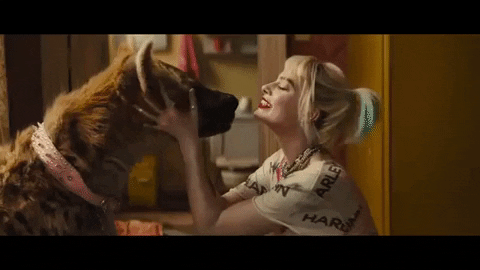 The crafts for Birds of Prey are also knocked out of the park. For instance, the makeup and hairstyle isn't just relegated to Quinn, but extended to McGregor's Roman (adorned with eyeliner in an androgynous turn); as well as the scars on his henchman Victor Zsasz (Chris Messina). Nevertheless, Roman and Zsasz are treated as a sexed-up tweedle dee/tweedle dum. Moreover, Erin Benach's costume design is fantastic: from Roman and Black Canary's suits, to of course, Quinn's many costume changes: from roller derby Queen to bat wielding overall clad bad ass. And unlike in Suicide Squad, Quinn's costumes aren't overtly sexualized through a male gaze. Instead, they're powerful self-expressions of her personality: bedazzled and punkish. Also, the set work by production designer K.K. Barrett is detailed and enveloping. Every set feels very lived-in, especially Quinn's hideaway—replete with knives thrown at a picture of the joker hanging on the wall.
Nevertheless, for all those pluses, Yan's action flick takes time to coalesce. Which is enough for it to be enjoyable and better than much of DC's output, yet falls a little short of the subversive game changer it could've been. Instead, it's a collage of glitter-packed fun. And maybe the splattering buckshot of a story and vibrant neon colors is exactly what one should expect from a character like Harley Quinn, which makes this popcorn flick even more fitting. In any case, Birds of Prey is the first fun for fun's sake comic book movie in some time, and a decisively exhilarating girls trip, no matter the destination.