Rating: 4/4
What's that I hear? It's "as if millions of voices suddenly cried out in terror and were suddenly silenced." The sound of deflated haters never sounded so sweet as seeing Rian Johnson's The Last Jedi followup, the wildly hilarious whodunit Knives Out.

The shot of schadenfreude that fanboys would've had hearing of Knives Out's demise quickly sweeps away, as like an episode of Columbo, the first image of note reveals mystery writer Harlan Thrombey (Christopher Plummer) strewn across a white settee, dried blood plotting itself from his slit throat to the floor. We then fast-forward a week, and the Thrombey family has gathered at their Victorian-era compound to be interviewed by Lt Elliott (LaKeith Stanfield), Trooper Wagner (Noah Segan), and the last of the great gentleman investigators Benoit Blanc (Daniel Craig)—whose presence has been paid for by an anonymous client left unknown to even him. While all signs point to suicide, the three are there to determine if there are hints of foul play.

That's as deep into the plot as I can go without spoiling anything. Though, the most enjoyable aspect of Knives Out: next to its hilarity and incredible cast, comes through its rewatchability. You could know every narrative point, and the story wouldn't feel spoiled. Instead, it'd be enriched as you notice with greater ease the series of infolding and unfolding: buttressed by Steve Yedlin's foggy enigmatic cinematography, Johnson creates within his taut mystery.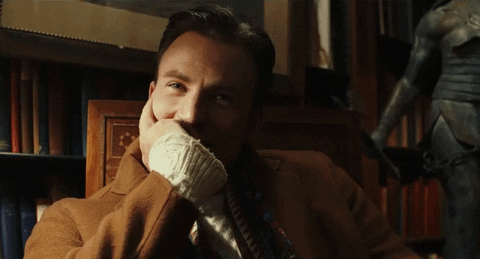 Returning to the cast, like some of the great cinematic Agatha Christie adaptations such as Death on the Nile (1978)—which relied on an expansive roster of talents—Knives Out matches those heights. There's Harlan's piercing and domineering eldest daughter Linda Drysdale (Jamie Lee Curtis) and her oafish prejudice husband Richard (Don Johnson)—with their son, the fast-living playboy Ransom (Chris Evans, who plays so well against type as a douche). Another segment is led by Harlan's temperamentally miserable son Walt (Michael Shannon) and his wife Donna (Riki Lindhome)—with their Brietbart poster boy son Jacob (Jaeden Martell). Toni Collette plays Joni: the health-guru widow of Harlan's middle son, while Katherine Langford performs as her further left-wing daughter Meg. Like any great mystery, each character hides their own incriminating secret. They're rounded out by unforgettable cameos from Frank Oz as a family lawyer, M. Emmet Walsh, Edi Patterson as the family's servant Fran, and K Callan as Great Nana Thrombey.

While it's nearly impossible to single out one performance among a blanket of stars, the film's true lead (other than Daniel Craig, whose exaggerated southern drawl holds the corner of his mouth together with the stickiness of syrup) is Ana de Armas. She carries the emotional center of
Knives Out. Performing as Marta Cabrera: the nurse and trusted companion of Harlan, who literally vomits whenever she lies, and whose mother lives in the country illegally—a fact later used as leverage against her—Armas remains steady and nuance in a film filled with larger-than-life characters. Her often times nonchalant deadpan delivery hits the overt yet subversive jokes that litter Johnson's surprisingly political script.
In fact, wrapped in his whodunit is a film throwing Molotov privilege cocktails at America's treatment of immigrants. The prescience of Knives Out's thoughtful discussion is one not completely divided by left or right, but class: displaying the myriad of ways the rich are elitist psychopaths. Tellingly, a recurring punchline is the fact that none of the Thrombeys know what country Marta hails from. This doesn't succeed without a great script, yes. But such a multi-purposeful show of political backbone wrapped in satire doesn't triumph without the incredible performance of Armas.

Knives Out welcomes repeat visits, awaiting the returning viewer to discover newer meanings in once discarded images and lines. And with an immaculate cast and in an unpredictablely briskly paced 130 minutes, Johnson Knives Out serves as a perfectly constructed modern reinvention of the whodunit.