Rating: 3.5/4
Love and family are curative measures. However, they're not full-proof shields for the outer world. If you've already watched the trailer for Waves, I can already tell you it's not the full story. It's not even 15% of the story. To tell you more would spoil this shocking yet gorgeous film. Working with heady subjects and traumatic events, Trey Edward Shults' Waves emotionally tosses you like a buoy in a hurricane.
Waves is split into two parts: the first, with Tyler (kelvin Harrison Jr. who previously starred in Shults' It Comes at Night), the second, with Emily (Taylor Russell). The siblings occupy a tight-knit Black family with a successful father Ronald (Sterling K. Brown) and an entrepreneurial mother Catherine (Renée Elise Goldsberry). The first part follows Tyler as he ebbs from his family, receding into a dark head space after an injury derails his wrestling career. His opening section also concerns his tumultuous relationship with Alexis (Alexa Demie), made brittle by a surprise. The second half holds a tranquil and introspective tone as compared to the rapid escalation of the previous chapter. Swirling around Emily, she's the flow back to the family—as she navigates a burgeoning and endearing love affair with Luke (Lucas Hedges).
The family drama depends upon an incredible cast: Sterling K. Brown's melodious yet quivering voice shifts from taskmaster: pushing his son athletically, to regretful sod in a commanding show of vulnerability and strength. Goldsberry morphs from dutiful wife to emotionally detached spouse. Hedges impresses against type with a charm and innocence separate from the usual angsty teens he plays, while Taylor Russell gives a breakout performance through the resilient and empathetic Emily. Nevertheless, next to Adam Driver, no actor is having a better year than Kelvin Harrison Jr. From his ambiguously manipulative turn in Luce to his equally disturbing descent in Waves, he's a literal star in every sense of the word—shooting to psychological heights rarely perceived.
Shults—in combination with cinematographer Drew Daniels and co-editor Isaac Hagy—offers sumptuous and unique camera angels and shots. The opening sequence, where Tyler and Alexis and their friends drive by the waters of Miami, sees a continuous 360 pan, rotating over-and-over again, barely catching each character as they groove and bask in the Florida sun. The shot in its motion, recurring several times throughout the film, imitates the footage you'd see on Instagram or Snapchat. Moreover, Shults relies on intimate close-ups during the first half, then distant full shots in the second, before returning back to intimacy by Waves' end.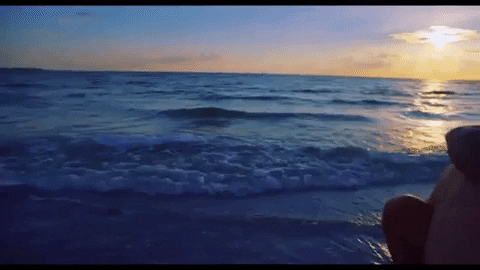 The lighting depends upon two primary colors: red and blue, meant to mirror the lights of a police siren. Those hues often soak over and into characters. Sometimes too didactically, the family drama makes clear the precarious position Blacks hold, even those on the upper rungs, of falling prey to the extralegal system surrounding them. The film is split into not just two chapters, but vignettes within those divisions: Schults signifies each transition to a new section with shots of swirling marble, like seen on a flyleaf. However, the most daring choice arrives during the film's climax, when the aspect ratio switches from widescreen to Academy: boxing the characters and drama to their horrific ends.
Furthermore, the music in Waves offers dark and sometimes ebullient tones. Trent Reznor and Atticus Ross, whose most famous compositions include The Girl with the Dragon Tattoo and The Social Network, add a brooding undercurrent to the cathartic foreground, while the killer soundtrack adds bounce. Waves does suffer from some pacing issues, as Shults uses the Academy ratio to end part one and to begin part two, before switching back to widescreen by film's end. The late change halts the ease of the second half. Also, the narrative of Black males submitted to trauma and violence while white males act as saviors to Black women, distracts from Shults' final message of forgiveness. Nevertheless, even with those qualifications, Waves still packs repeated hits to the heart when we wade into its beautiful exorcising current.