Rating: 3.5/4
She treks across a bushy landscape from her quiet hillside village, clutching the craggy rocks as she walks on the perilous ledge of a mountain: her single knife against a swarm of bees, done for the pursuit of honey. Who is this woman dressed in a yellow top with a floral green headscarf? She is Hatidze Muratova, the enigmatic, yet kind subject of directors Tamara Kotevska and Ljubomir Stefanov's Macedonian documentary Honeyland —that's as much about the gooey sticky nectar as it is a story of perseverance.
Hatidze's daily routine, her near solitude, is initially observed in this vérité documentary. She occupies a quaint cottage in a tiny deserted village trapped in time, confined in amber. With a bevy of cats and her energetic dog Jackie, she cares for her bed-ridden mother. They argue like an old married couple, while she tends to her 84-year old mother's festering facial wound, feeding her honey, bananas, and watermelon, and every so often traveling into the capital to sell the nectar shes's harvested.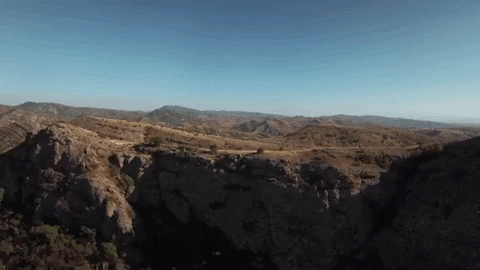 Her existence isn't necessarily Edenic. Nevertheless, she lives an ecological balance with her surroundings — only taking the honey she needs, leaving half for the bees. Her rural way of life, allows her to hang onto a bygone trade and ethos. Fejmi Daut and Samir Ljuma's cinematography captures her home life to the dimness of a candle light, with tight domestic shots mixing Rembrandt shadows with Dust Bowl sparseness.
However, her quiet Eden gives way to the sounds of children and cattle. A new family of Turks arrives in a camper, bringing their rambunctious and fraught dynamics towed to their backs. Hatidze, for her part, remains kind and generous while attempting to help her new neighbors. Nevertheless, the family's patriarch Hussein Sam notices how well Hatidze sells her honey and sees a business opportunity. Attempting to grow his own line of nectar, he enlists his family in draconian fashion. Nevertheless, Hatidze remains steadfast in her charity and wisdom, offering Hussein her tricks of the trade and celebratory sips of brandy.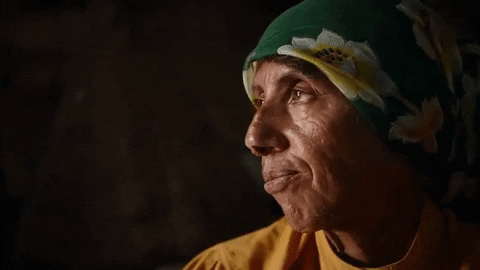 Without giving away the film, Hatidze's kindness in the face of a greedy consumerist world does put her way of life at risk. Throughout Honeyland, Kotevska and Stefanov chart her life and gleam shades of her personality: her mischievous and giddy smile, her shopping for hair dye— even a saint like Hatidze is allowed some vanity, and the care of her mother cultivates a pathos to the viewer. She relieves our cynicism, even if our honed survivalist instincts prove correct. Suffice to say, by film's end, she is nearly broken. Nevertheless, she remains resilient.
And if one flaw exists within Kotevska and Stefanov's poignant 87-minute documentary, it's the amber they trap Hatidze within. We never know nearly enough about her life, if she has friends, the bureaucratic system that surrounds her, or even why she collects honey — "For the love or for survival?" We can only assume for love, but conjecture lacks the fullest emotional weight. Still, by Honeyland's end, we hope and believe that the same buoyant spirit that's carried Hatidze this far will carry her through this harsh winter of her life to another Edenic spring.