Rating: 3/4
"I want love on my own terms," says a hurt Reginald Dwight. Doesn't every artist? Fame brings adulation and admirers, but for most pop stars, love sings a fleeting melody into their ear. Close enough to compose pained desires, but deliberately at arm's length to drive one out of key. Such is the plight of Reginald Dwight, or Elton Hercules John, in Dexter Fletcher's cliche yet rousing rated-R biopic of the 'Your Song' singer: Rocketman.
Fletcher's film opens with John dressed in a flame decorated red and orange bedazzled jumpsuit, replete with horns. Opening the doors to a rehab center, a bright light shines behind his flamboyant demonic spectre — thereby demonstrating the duality of his existence: the closeted vs. public persona of the hitmaker.
The film then circles back to John as a child, with "The Bitch is Back" acting as a high-octane large-scale opening number dressed in Fletcher and cinematographer George Richmond's muted 50's cinematography. Much of the film acts in flashbacks, as the present-day singer recounts his past to an AA group: moving the viewer from his fraught childhood to his excessive stardom while dancers and extras in vibrant period costumes adorn musical numbers. In this regard, Rocketman mirrors Kevin Spacey's Bobby Darin biopic Beyond the Sea.
Though John acts as an Executive Producer, he reportedly exerted minimal control over the narrative. Instead, he handed Fletcher the reins to reshape his songs and tell his story with as much honesty as possible (with a little Hollywood magic, of course).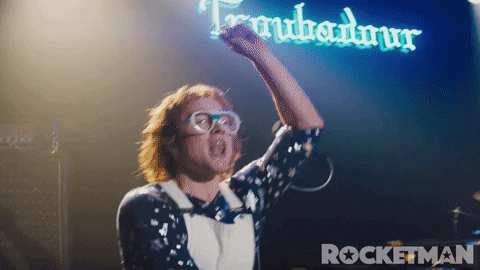 Fletcher uses Rocketman not only as a biopic, but as a literal psychoanalytical trip within the confines of John's memories and the AA therapy sessions. John grew up in a "typical" 50's household: distant father who never hugged him, mother drinking to cover her boredom, and doting grandmother. Your basic Freudian gin and tonic.
But young Reginald is special, a prodigy even. He moves from the Royal Academy to playing rock n' roll as a sideman. In fact, he thinks so much of himself he pursues a career as a rockstar, meeting AR men Ray Williams (Charlie Rowe) and the irascible and blunt Dick James (Stephen Graham, a complete scene stealer).
Nevertheless, one chance encounter changes John's life and music forever: when he meets his songwriting partner Bernie Taupin (Jamie Bell, who works so well as a foil). Rocketman gets the collaboration between songwriting partners, the innate understanding between two people required to compose music together, right. The two are a wonderful double act, like a happily married couple.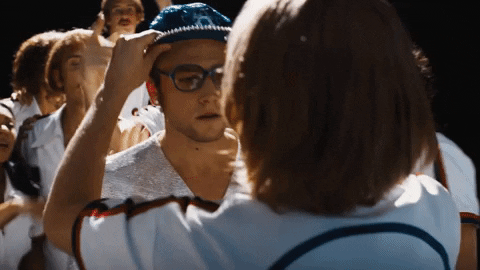 While John ascends in his music career, viewers are treated to an hour and a half jokebox of his career. Egerton of Kingsman fame, provides his own vocals to the songs and adds new complexities and textures to these iconic tunes along with fantastic interpolations from composer Matthew Margeson. There's never a moment where the film takes on a karaoke vibe, especially as costume designer Julian Day provides some stunning facsimiles of John's wardrobe through the decades.
In fact, one of the best sequences comes with "Saturday Night's Alright for Fighting," as the film's swirling camera movements provides a soaring energy and a pure joy surrounding the songs. Lovingly camp throughout, every number matches the flamboyancy of the singer.
The only times Fletcher's interpretations go off the rails comes when Fletcher doesn't uniquely interpret the songs. Rocketman struggles to shake the Across the Universe bug of making its metaphors too on the nose: fighting to make amends with friends as 'Sorry Seems to be the Hardest Word' plays in the background is one example.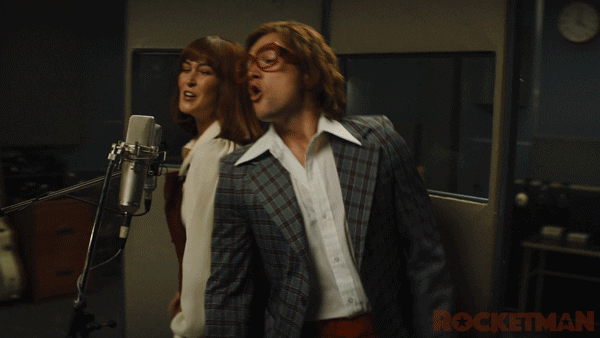 Rocketman also exists within the universe of Fletcher, who has some history with biopics. It's a Herculean effort not to compare Rocketman with his "co-directorship" of Bohemian Rhapsody. Luckily for this film, the Elton John biopic contrasts quite favorably especially with regards to representation. While Mercury falls prey to his gay "hedonistic" existence, which still remains homophobic in its cinematic representation, John is seduced by a shady figure as well in the form of John Reid (Richard Madden, who is so punchable here). However, Reid isn't a black mark against John's sexuality. Instead, he's just a tool.
Also, Rocketman doesn't shy away from depicting sexual passion between two men. The film overflows with sex, drugs, and alcohol. And explores the consequences of not loving someone for who they are. In fact, Rocketman finds effecting empathy through the historical fact of one's sexuality affecting their career, thereby leading to a lonely existence. Such becomes the sinking sandbox of John's addiction.
While Fletcher's Rocketman may fall into the cliche one too many times, the buoyant energy of John and Taupin's songs provide a bounce. Whenever one sees through the thin veneer of this cookie cutter story, a song swoons us back in love. And when the ending does arrive, with one touching moment involving a hug, there's a pure bliss and catharsis that accompanies both in tandem. Rocketman is one of the best musicals of the past 5 years and a showstopping crowd pleaser.