Rating: 3.5/4
What do you do after you create a cultural phenomenon? Jordan Peele has been trying to find that answer since his groundbreaking film Get Out. First by producing the new Twilight Zone, then by producing the Oscar-winning BlacKkKlansman. But it was only a matter of time before he directed and wrote again, and at SXSW he has returned with his horror follow up: Us — a new ode to the horror genre, ambitious and challenging, creepy and terrifying, but also stretched beyond its limits.
Peele's film opens in 1986, on a close up of a television playing the Hands Across America commercial (a fool-hearty event that tried to combat poverty by literally holding hands). Later we flash to Santa Cruz, with a Black family — a drunken father, annoyed mother, and quiet daughter — at an amusement park by the beach. A storm is rolling in. And while the father is playing Whac-A-Mole, the girl wanders down to the beach into a fun house of mirrors where she makes a frightening discovery.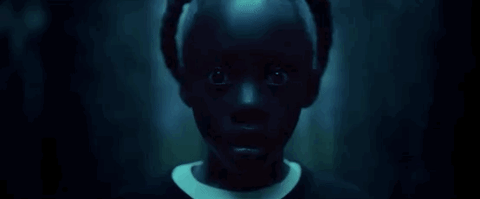 20+ years later and that girl — Adelaide Wilson (Lupita Nyong'o) — is now an adult with a husband Gabe (Winston Duke) and two children: Jason (Evan Alex) and Zora (Shahadi Wright Joseph). They're a well-off family, vacationing near Santa Cruz in a nice home. In short, they're privileged. Their closest friends are the Tyler's — a White family even more privileged than them: Mr Tyler (Tim Heidecker), Mrs. Tyler (Elisabeth Moss), and their daughters: played by Cali Sheldon and Noelle Sheldon. There's something to be said of Peele positioning a Black family as privileged, subverting our expectations and offering a sharper take on the theme. What he's truly saying, I have no idea.
Their world is suddenly and viciously torn apart when, one night, their doppelgangers appear dressed in red jumpsuits with gold-plated shears at their killing disposal in the family's driveway. Us then becomes a grisly and bloody tale of the hunters and the hunted, with those roles switching quickly and often.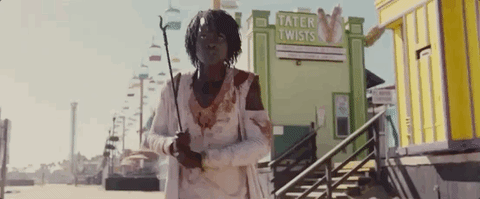 The acting in Us is tremendous; Peele is quickly assuming a reputation as a director who can find his actors' best. Winston Duke, the now meme-famous M'Baku of Black Panther, demonstrates his wide range of talent as he assumes much of Peele's witty and impish sense of humor. His character is a straight forward embarrassing dad, but Duke builds his character to startling and brilliant results. Both Alex Evans and Shahadi Wright Joseph are especially menacing when they switch to their doppelganger characters. And Elisabeth Moss and Tim Heidecker both capitalize with their limited and narrow screen times and roles. But per usual, it's Lupita Nyong'o who literally kills. She's a carnal whirlwind, switching between doting mother, harsh killer, and as her doppelganger, psychotic menace.
Peele also elucidates a wonderful sense of terror. His film plays on themes from Jaws, The Shining, and The Stepford Wives: the unnerving and terrifying experience of watching your children in danger and the shock of twins with muted personalities. Additionally, Peele adds a religiosity — an almost apocalyptic angle — through the use of scripture (Jeremiah 11:11). The combination makes for a film that's pure horror, as compared to the thriller that was Get Out.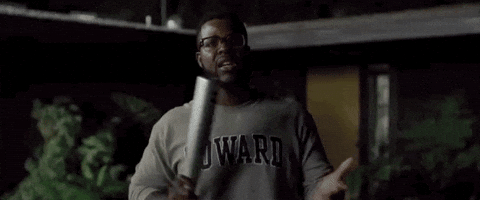 However, Us can be completely unyielding. With a 2-hour runtime, the film can drag in spots. Mostly because the doppelgangers appear too early. Making two-thirds of the film into a frantic and intense chase puts pressure on the audience to remain at a level 10. At some point, the intensity dissipates.
Peele also attempts to imbue Us with a larger political scope and greater ambition than Get Out. While the latter's location and time were never given (though we could assume Get Out was set in the very very present day by the 'I would have voted for Obama for a third term' joke), Us is very exact in its time and place. Beginning in the Reagan-era and the War on Poverty, and then later transitioning to two affluent families, the film plays on the haves and the have nots: the forgotten and lost society of the American poor. Moreover, there's the battle between the oppressed and the oppressors as Peele implements an entire mythology, including rabbits, onto the macro stratum of his film. There's probably too much happening in Us, as the horror will require multiple rewatches, and it doesn't all work as well as Peele probably hoped.
Still, the film manages to climax in the most exhilarating and unique use of jump and crosscuts when Adelaide battles her doppelganger. It makes the comparable Natalie Portman scene in Annihilation seem quaint. Peele, in that one sequence, demonstrates an added level of composition and shadows, and communication with his editor Nicholas Monsour than in Get Out. He demonstrates the leaps he's grown as a filmmaker. And while I have been comparing Us to Get Out for ease of use, the two are really incomparable. Instead, Us stands on its own as a terrifying, provocative, and audacious statement on privilege, race, and poverty — and establishes Peele as a horror auteur.