Review: 3/4
Few franchises have thrived on never making a good film for as long as Transformers has. Bumblebee is the fifth installment in the Michael Bay produced universe, and the first not directed by him. Instead, Travis Knight (known for the brilliant Kubo and the Two Strings) takes over the director's chair and finds the honey suckle sweet spot in a John Hughes/Steven Spielberg-inspired coming-of-age blockbuster.
This iteration of Transformers isn't a reboot, rather a prequel. Knight's film opens with a large-scale battle on Cybertron, as Optimus Prime (Peter Cullen) and Bumblebee (Dylan O'Brien) hold off the ensuing Decepticon attack. When all seems lost, Optimus Prime orders Bumblebee to board an escape pod to Earth where he'll be tasked with setting up a base and awaiting Prime's arrival. Barring the cacophony and sheen of the initial battle, Bumblebee is a rather quiet and intimate film. Rather than depending upon sex and testosterone as narrative engines, Knight's film prefers to explore the relationship between a girl and her yellow beetle.
Bumblebee's escape pod, later, comes crashing down to Earth, interrupting a training exercise led by Agent Burns (John Cena). Cena plays your typical red-ass military commander, who'd rather blow up stuff and ask questions later. Cena is awesome in this one-note role, humorous and intimidating. Awesome to the point, where I wished the script had given him more. In tandem with the comedy Blockers, 2018 has been a solid year for the pro-wrestler.
During the ensuing fire fight with Cena, Bumblebee is critically wounded and drifts into hibernation as a yellow Volkswagen beetle in disguise. He remains that way until he's discovered by Charlie Watson (Hailee Steinfeld). Charlie is straight out of a John Hughes film. A punk with a Ramones haircut, she listens to The Smiths, rides a moped, and works a summer job at a concessions stand at an amusement park (a job she obviously hates). Charlie, who's lost her father, actively rebels against a worrisome mother (Pamela Adlon), a nice, yet misguided step-father who'd like to see her smile more named Ron (Stephen Schneider), and a younger and annoying martial arts addicted bother named Otis (Jason Drucker).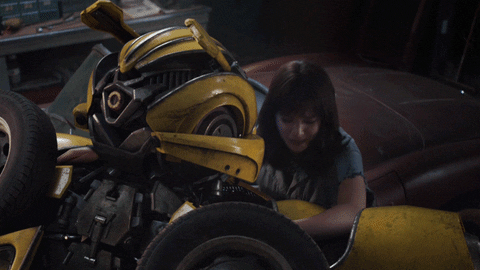 Christina Hodson's screenplay, with regards to the family's dynamics, siphons influences from Spielberg's suburban coming-of-age stories—such as strained familial ties and a missing father figure. Charlie buries herself in completing the car her and her father once worked on, finding spare parts at her uncle's scrapyard. It's here, under a tarp and a thick layer of dust, where she discovers Bumblebee (who she receives as a birthday present from her uncle). Hodson, though writing a female sans-father figure, steers from the trap of Charlie innately yearning for a male presence. Even when Memo—a dorky next door neighbor who's clearly smitten with her — emerges, she still retains a fierce independence.
A kind of period piece, Knight's film firmly establishes us in the 80's. The soundtrack is filled with goodies from The Smiths and Simple Minds, while Motorhead t-shirts and Mr. T cereal add authenticity. Bumblebee also displays a playful visual language. Knight, with his use of dutch angles and visual humor, gives the film a unique spontaneity and character.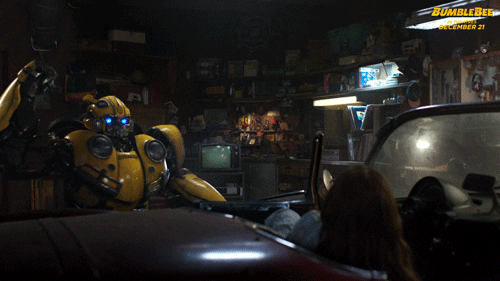 The magic of Knight's film is the ability to see the bright side in what's a depressing story. It's the bond between woman and machine (a bond that could elicit comparisons to Donna Haraway's A Cyborg Manifesto) that occupies the film's heart. Charlie finds a friend in Bumblebee, a kindred spirit in the alienated (literally). She trains the car-morphing robot, who's lost his memory and voice, to hide and speak using his car radio. She confides in him the hurt of losing a loved one and shares the rebellious majesty of The Breakfast Club. Several scenes are packed with humor, from the egging of a popular girl's car to Bumblebee burying his head in the sand.
Their happiness is interrupted by Shatter (Angela Bassett) and Dropkick (Justin Theroux), Decepticons who are fantastic villains here, who discover Bumblebee's location. With Bumblebee in danger, Charlie must reconcile with her family and save her friend. The film's conclusion, a large-scale battle across a shipping yard, is gripping and well edited. Indeed, by the time Knight resolves his film with a touching and inevitable ending, you may be reaching for a box of Kleenex. Travis Knight has created the best Transformers film by a mile, and certainly one with the most heart.