Rating: 2.5/4
"But under no circumstance, are you allowed to take off your blindfolds."
The stern instructions delivered by Sandra Bullock to boy and girl, two children of unknown origin in her possession, jettisons us in a twisting feel-for-the-walls of a dark hallway thriller. Director Susanne Bier's perilous post-apocalyptic film, Bird Box, straddles the line between rudimentary and riveting.
Bird Box begins in media res, as Malorie (Sandra Bullock) gives "her" children (played by Vivien Lyra Blair and Julian Edwards) those fateful instructions. Living in the middle of the woods, they're taking a journey down the river towards a sanctuary. If they remove their blindfolds, they will die. This is the central rule of Bier and screenwriter Eric Heisserer's world, adapted from Josh Malerman's novel of the same name.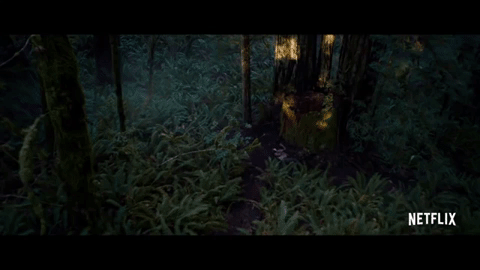 In a flashback, we see Malorie as an artist, painting on the subject of detachment. The subject suits her, as she's unaware that a virus is currently causing turmoil in Europe. No one knows what causes the affliction or how to cure it, but people at random are seeing an imaginary monster. The monster causes them to hallucinate and commit suicide. Malorie is also pregnant, though she calls it a "condition." On her way to a doctor's appointment, her sister (Sarah Paulson) is afflicted with the virus.
There's mass chaos in the streets. Marlorie finds shelter in a home, owned by Douglas (John Malkovich)—a misanthropic self-serving realist with a temper, who's wife just killed herself trying to save Malorie (making their relationship fraught). Occupying his home is a motley crew comprised of Tom (Trevante Rhodes), Charlie (Lil Rel Howery), Felix (Machine Gun Kelly), Cheryl (Jacki Weaver), Lucy (Rosa Salazar), Greg (BD Wong), and later, Olympia (Danielle Macdonald)—a naive pregnant woman who's allowed in (much to the protest of Douglas). The ensemble is deep, while the characters they play are wretchedly dysfunctional.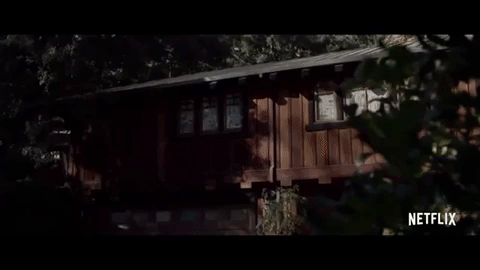 Bird Box, a mix of Cormac McCarthy's The Road and Jose Saramago's Blindness, jumps between the present day—Malorie and co. navigating down the river—and Douglas' home. The river portions are certainly the most engrossing and hold the film's greatest spontaneity, as Malorie guides the children through rough waters and danger at every turn. Though the Douglas scenes also hold peril, the turmoil lies in the selfish predictability of human nature. And as each character is picked off, we reel to the inevitable. The slowly paced tottering to the arc's conclusion is hampered by shallow interactions between the characters. Bullock, clearly the star, drives the slower periods with her trademark caustic wit, while the others are one-note characters (though some resolve quieter than others).
If Bullock carries the film, then Danielle Macdonald (in her follow-up to Patti Cake$) finds a corner to lift. Their opposing outlooks on motherhood, Malorie who hasn't chosen a name for her child, contrasting with Olympia, who has a few names, causes Malorie to slightly change her disposition. It's not easy playing purely cheery and bright, but Macdonald sincerely does so with ease. It's her character who nearly undoes the group multiple times, especially when she lets in a shifty, but amiable, Gary (Tom Hollander).
Still, the best moments of Bier's film arrive when the characters are directly confronting the real monster rather than the metaphorical monsters around them. This is especially true of a frenetic food run to the supermarket, where they have to figure out how to drive without seeing.
Even as they begin to encounter people who weren't killed by the monster, but driven crazy to see it as a Messiah, the film loses its steam. The ending —as Malorie and her children are separated in the woods in route to the sanctuary—is gripping and cathartic as Bullock wails among the trees for her children's safety. The conclusion of Bird Box, while improbable, results in tranquility for the viewer and Malorie, even if Bier's path isn't particularly unique.