Rating: 3.5/4
Autumn (Sidney Flanigan, in an incredible debut) is a girl who's changing rapidly. Living in a small rural Pennsylvania town, she's a moody 17-year old working at a supermarket with her cousin Skylar (Talia Ryder, also offering a gutsy debut). However, unbeknownst to her parents—a pining mother and a morose father—she's pregnant. The drama's opening might initially welcome comparisons to Jason Rietman's Juno (2007) or Nia DaCosta's Little Woods (2018); however, Eliza Hittman's perilous film is its own animal. Detailed and frustrating, her Never Rarely Sometimes Always safeguards women's agency while portraying a heartwarming bond between two cousins in a gripping coming-of-age drama.
At the outset, Autumn's journey is a solitary one. She navigates the medical landscape of Pennsylvania and her tiny town alone—first confirming her pregnancy at a quaint family clinic, then discovering that as a minor she can't get an abortion without a guardian's approval. At the supermarket, where her and her cousin work, Skylar begins to notice signs: Autumn's bra suddenly not fitting or her sporadic vomiting. With few options, the two decide to run away, catching a bus to New York City: where minors can have abortions under their own volition. Of course, along the way, as they bump into the confines of the American healthcare system, they discover unforeseen roadblocks.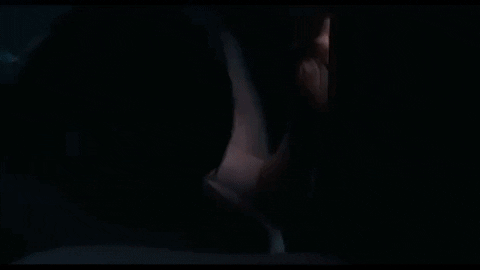 Worse yet, they're left to avoid the varying big-city travails: the lascivious nature of a compromised urban jungle whizzing around them and the varying forms of toxic masculinity present in it—with very little help. Instead, Autumn and Skylar must rely on one another to circumvent the obvious scumbags and the pernicious "nice" guys. These figures come and go, though one played by Théodore Pellerin interjects himself from time-to-time. In a small sense, Hittman's picture is a love story: the care shown between cousins, the bonding such a journey embraces, and the trust between women protecting each other from all on-coming sleazeballs in an ever-marginalizing world.
Most of all, Hittman brings a quiet and comprehensive eye to Never Rarely Sometimes Always. The process Autumn takes with Planned Parenthood demystifies the stigmas surrounding the organization and the practice of abortion. These physicians aren't coldly killing fetuses. Their intentions revolve, first and foremost, around the safety of the patient. None of the Planned Parenthood scenes, save for a couple security guards, feature men. Instead, it's women helping women to communicate health options and next steps. For instance, both of the abortion scenes are handled with extreme care and touching intimacy: the camera panning along Autumn's body while her hand is soothly held. Never Rarely Sometimes Always could easily act as an endorsement of Planned Parenthood (no complaints here). But more so, it supports choice. A woman's choice.
Throughout, Flanigan's impenetrable gaze offers parallels to Thomasin McKenzie's adventurous turn in Leave No Trace (2018). Even so, her stoicism that intermittently melts into churning fresh water rapids of tears, floods the heart with its own current. Electric yet steady, her scene during the drama's namesake is an enervating incantation. It occurs, deceptively, inside a bare Planned Parenthood examining room. There, Autumn speaks with a counselor, who patiently administers a questionnaire, to which Autumn must respond with the answers: "Never," "Rarely," "Sometimes," "Always." The scene packs a wellspring of power as more-and-more difficult fragmentary answers pile on until Flanigan's quiet veneer gives way to tears, and us in kind, do too.
Hittman's drama is a personal tale. Every shot speaks with empathy, every minute a sincere whisper. Hélène Louvart's cinematography—relying on runimiative close-ups—mixed with Hittman's screenplay, makes for an authentic vehicle for the film's two remarkable leads. And more often than not, even if some scenes aren't as fully teased out, we feel the film's impact. We sense the protectiveness the filmmaker has for her characters, the warm sympathetic lens of the camera. Never Rarely Sometimes Always is never anything less than a crucial and timely story of hardship and love, of choice—made real by a series of beautiful observations.