Rating: 3/4
Few actors in Hollywood have ridden a cold streak as long as Will Smith. Once the bankable prince of cool, the triple-threat actor has experienced a number of bumps: from After Earth to Gemini Man. But in the first animated feature of his career—Troy Quane and Nick Bruno's secret agent comedy Spies in Disguise—the star rekindles what made him the hottest ticket in town in a film that mixes his easy sophistication, peerless heroics, and penchant for feel-good stories.

Here, Walter Beckett (Tom Holland) is a young scientist whose only companion comes in the form of a female pigeon. The son of a cop, he hopes to change the world for the better, to make espionage less a game of deadly assassins and a chance for peace in the form of glitter, kittens, and hugs. His style runs in sharp contrast to Lance Sterling (Will Smith). The best spy in the world, Sterling exemplifies confidence and style. He's literally worshiped like a god by all at the agency, while Walter might as well be drying paint. But when Sterling is framed by a metal claw handed terrorist named Killian (Ben Mendelsohn, the king of bad guys) of betraying his country, and hunted by internal affairs agent Marcy Kappel (Rashida Jones), he turns to Walter to hide. And to these ends, the young scientist accidentally turns the world's top spy into a pigeon.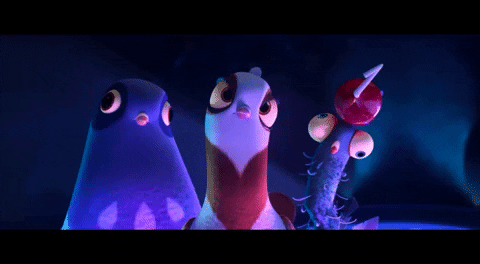 At its best, Spies in Disguise works on two levels: a meeting of disparate personalities—Walter is lampooned as a weirdo by his agency co-workers while Sterling flies solo above the fray—and a lesson in kindness. So while Sterling has a shoot-first mentality, Walter wants to change that while showing him the advantages of being a pigeon (like glutton-free breadcrumbs).

Furthermore, the animated picture serves as a reminder of Smith's impeccable comedic timing. Here, his style fits the previous effortless dad humor he once cornered the market on. A mentor to the young scientist, Sterling must learn to work with others. He finds a flock of oddball birds, learns to let his emotional guard down, and open himself to Walter's methods. The push-pull causes the confident spy to allow some humility. These factors make Spies in Disguise less James Bond, though a few of the intricately composed action sequences do have references to Casino Royale and Skyfall, and more Ethan Hunt. Moreover, in a children's film, the sex appeal is somewhat subtracted (though it definitely is still there, look at that very fitted suit), and replaced with vulnerability.

These two opposites: geek and cool, become best friends. And while Spies in Disguise doesn't offer the same empathy required to fully sketch its villain as it asks Sterling to, the conclusion doesn't lack for warmth. Ultimately, Spies in Disguise is an overdue and welcomed return to form for Will Smith.