Fuckin' up motherfuckers was his game. Rudy Ray Moore played the profane pimp and Blaxploitation icon Dolemite for nearly 30 years. A self-made singer; comedian; and actor; his life is documented in Craig Brewer's Dolemite is My Name — an inspirational story of pursuing your dreams, even when those dreams aren't keen for the chase.
Opening in 1975, Ruby Ray Moore (Eddie Murphy) supports a fledgling stand-up career working at a record store. The first scene sees Moore hocking his passé 45's to a disk jockey (a surprise cameo). His friends include Jimmy Lynch (Mike Epps) and his record store co-worker Theodore Toney (Tituss Burgess). To supplant his day job he opens as an m.c. for Jimmy Lynch's (Craig Robinson) funk band, though his name doesn't appear on the marquee. Doughy, every night Moore fits himself into a ruffled white suit made for a younger slimmer man who had hopes of moving from Arkansas to Los Angeles and becoming the next Sammy Davis Jr. Instead, like many tinsel dreams, his tangled wishes fell forgotten underneath an empty Christmas tree.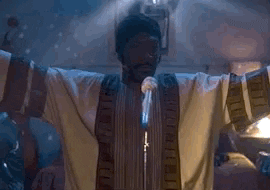 By chance, one day a homeless beggar comes into the shop using the Dozens to entertain the patrons. The Dozens in Black communities dates back to slavery — pithy rhymes of insults used to vent against White masters, which later became infused as expressions of frustration for the second-class citizenship many Blacks endured then and today. Moore forms an idea: He'll record the homeless who espouse the well-known banter and polish their garish insults of mothers and their opponents for stand-up material. Assembling a wardrobe of loud pimpish suits, a cane, and an afro wig, he creates a new character to dispense their spoken-word treatises: Dolemite.
However, while he becomes a taboo icon, selling his stand-up records from the back of his car and traveling the Chitlin Circuit, he's still relatively unknown. He soon hatches a plan to make his own movie with "sex, tities, and kung fu." He assembles a screenwriter: Jerry Jones (Keegan-Michael Key), a director: D'Urville Martin (Wesley Snipes), and a protege: Lady Reed (Da'Vine Joy Randolph), and pours all of his money into the film.
Dolemite hums due to a script written by Scott Alexander and Larry Karaszewski — scribes of Ed Wood, The People vs. Larry Flint, and Man on the Moon — and the resurgences of Eddie Murphy and Wesley Snipes. The dialogue is smart, toeing conventional underdog biopic narratives with Disaster Artist making of hilarious riffs. Both would be formulaic if not for Snipes, playing the incredulous director, giving the best side-eyed glances of this century, and Eddie Murphy's unflinching sincerity. Several instances of the comedian's best days arrive to the forefront. In some smiles Axl Foley returns, in the over the top outbursts so does The Nutty Professor, and in moments of introspection so does Ray in Life. He pours everything into Moore: regret, insecurities, and aspirations. His good faith is coupled with Da'Vine Joy Randolph, who adds a level of body positivity that heightens the material into more than a chronicling of a lewd 1970's film.
Unlike The Disaster Artist, however, Dolemite isn't making fun of its subject. Moore and co truly are outsiders who just want to be seen, and will risk everything to do so. Their camaraderie carries a devil may care attitude and an endearing feeling of family. Mixed with Ruth E. Carter's resplendent costumes, where she plants a Coming to America reference, the 1970's come alive again— and so does Moore. By the time the credits roll, Rudy Ray Moore's name blindingly flashes on the marquee, a triumph of will. But mostly, it's great to see Eddie Murphy and Wesley Snipes back on screen and fucking up motherfuckers like it's their game.