Last year, Morgan Neville's Won't You Be My Neighbor? played to a rapturous reception. The perfection of the documentary made the announcement of a feature film a hum and a haw snooze. But this iteration isn't a rehash of Neville's poignant and heartwarming film, though it does borrow some scenes. Instead, A Beautiful Day in the Neighborhood employs a frame constructed from Tom Junod's Esquire profile 'Can You Say… Hero?' Because of such, the Can You Ever Forgive Me? filmmaker Marielle Heller returns with a biopic espousing forgiveness and empathy, paying homage to the legacy of Mister Rogers through a brilliant performance from Tom Hanks and a bevy of exceptional creative choices.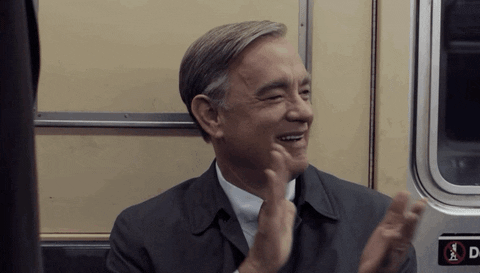 Set in 1998, A Beautiful Day in the Neighborhood isn't about Fred Rogers (Tom Hanks). Instead, Heller's film chronicles Lloyd Vogel's (Matthew Rhys) relationship with his father Jerry (Chris Cooper) and the guidance Mister Rogers provides. Lloyd and Jerry have been estranged for years—his father having left him and his mother. Now a father himself, with a wife Andrea (Susan Kelechi Watson), he encounters Jerry at his sister's wedding: who just wants to reconnected with his children. Nevertheless, fisticuffs ensue. Conversely, his editor also assigns him to write a puff piece: He must go to Pittsburgh and write a 400-word profile on Fred Rogers — the affable television personality and hero to children and adults everywhere.
Over the course of 107 minutes, Lloyd interviews Fred Rogers — who he's initially incredulous of, believing the man on tv as an act. However, Rogers likes Lloyd: He's attracted to people in need of help. Lloyd soon confronts his own jadedness and cynicism, his weariness of forgiving his father, and begins to take Mister Rogers' lessons to heart. He grapples with forgiveness, and his role as a father too. Leaving much of the child caring to his wife while consuming his time with his journalistic career, Lloyd unknowingly fulfills several male stereotypes associated with gender roles. That is, the expectation of the woman putting her career on hold. Rhys ultimately delivers a note-perfect display of misanthropy, regret, and white male self-centeredness.
A Beautiful Day in the Neighborhood also features the best acting performance from Hanks since Captain Phillips. More than blue sneakers and warm red sweaters, he conjures the spirit of Fred Rogers in his eyes and his smile. In fact, like a ghost from a t.v. screen comes Rogers' movements, mannerisms, pauses, and drawl in speech. Hanks reigns mild mannered, buoyed by supreme silence. He commands Rogers' penchant for deflecting, the tiny mounds of anger that swell, but quickly fade, his listening, the peaceful pockets of quietness, and his introspective glances. Rogers is fully demystified. Moreover, Heller exceeds even her wondrous work in Can You Ever Forgive Me? Because of her creative choices, A Beautiful Day in the Neighborhood blocks cynicism and houses forgiveness. To enumerate all the fanciful decisions she makes would spoil the incredible surprises she sneaks into her narrative, but Heller does reuse many of the sets, characters, and segments that made Mister Rogers' Neighborhood a phenomenon from 1968 to 2001.
Heller's A Beautiful Day in the Neighborhood, in combination with Micah Fitzerman-Blue and Noah Harpster's script displays the virtues of a wonderful human, shaped around a man who's far less than perfect. The combination causes us to look inward, to confront all the things that make us special and flawed at once. Several poignant scenes will drive one to tears, as Heller incorporates the think 60-seconds about the person who believed in you mantra from Fred Rogers. The inspirational biopic ends on a humanizing and cavernous note, and reminds us that true perfection is found in all the instances of imperfection.