Rating: 3/4
Reading a scary story is a courageous act. For many children, it's their first — offering metaphorical spaces for dread and fear to occur. The ghouls and ghosts who adorn most tales of terror — in terms of queasiness — often matches a child's bullies, their worst nightmares or memories, and the everyday troubles they're unable to consciously process. Reading a terrifying story is also a rebellious act. It's likely the first time a kid hides a book from their parents, their first personal secret. The initial Scary Stories to Tell in the Dark series resembled such characteristics. Born from folktales, they were just innocuous enough for children to read, yet offered a parade of frights that freaked out parents and kids alike. Here, the eponymous tales are made into a film by producer Guillermo del Toro and director André Øvredal, a teen thriller that mixes Stranger Things vibes with real life political horror.
Opening on Halloween night 1968, three friends: Stella (Zoe Colletti), Augie (Gabriel Rush), and Chuck (Austin Zajur) plan to take revenge against their childhood bully Tommy Milner (Austin Abrams). Their plans go awry when Milner retaliates. Him, and his soon-to-be Vietnam War bound high school buddies, chase the kids to a drive-in movie where they take refuge in Ramón Morales's car (Michael Garza). Ramón, an out of towner with a mysterious past, becomes fast friends with Stella and accompanies the three kids to a haunted house. Legend has it, a girl named Sarah Bellows committed suicide in the home, and if you ask loud enough for her to tell you a story, she'll do it — though it will be the last story you hear.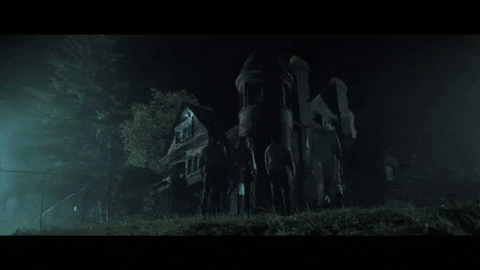 The four discover Sarah's former book, thought to have stories written in the blood of children, and for a time they're locked in her former room with Chuck's sister Ruth (Natalie Ganzhorn). Though they do escape with Sarah's book, stories begin to magically write themselves on its pages, with each tale matched to the individual kids, telling of their demise in a Stranger than Fiction manner.
Scary Stories's 108 minutes is filled with appealing teenage horror and cheesy dialogue. The screenplay, using the children as a framing device under the banner of Stranger Things aesthetics: neon lighting and period garb, pulls together individual tales from the original book series, like The Big Toe, Me Tie Dough-ty Walker!, Harold, The Red Spot, etc.
The selection of which stories to employ matches the film's key influence: Night of the Living Dead (the movie Ramón watches at the drive-in). In fact, the ghouls are slow moving, like zombies, and are well designed — especially the "You're Next…" ghost. The impending doom they bring, the inevitability, hits harder than any gore the film can provide — there's very little blood in this flick. Like the folktales used in the book series, the draw for teens and tweens is the borderline between the mundane and the frightful, the mystery. Nevertheless, Øvredal does abandon the slow monster theme by film's end — to some narrative detriment, in a banal conclusion.
While grappling with these terrors, the children are also dealing with external frights. Stella's mother disappeared years ago, and she's been emotionally vulnerable since. Ramón's past frightened him to the point that he's been on the lamb for a week. Chuck can't process a nightmare he's been having. While Augie and Ruth, well that's where the theme of internal-externalized frights ends as well. However, there's also the racism Ramón copes with from Police Chief Turner (Gil Bellows) and the issues of mental illness — which aren't completely explored with the required depth for such a weighty subject. Coupled with Nixon's oncoming election, and the Vietnam War raging around them, each narrative layer works to varying degrees, but appear too ambitious when taken together.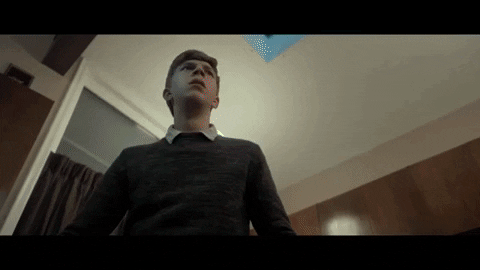 In fact, the seams holding Øvredal's ode to 1968 together, fray and almost break. There's Lou Lou (Lorraine Toussaint), Sarah Barrow's former Black friend, who's sculpted in the traditional Magical Negro trope — taking on bodily harm to defend her young white friend but now left elderly and broken by the ravages of time. The background of Nixon's election and the climbing death toll from the Vietnam War, meant to demonstrate the real life political horrors these teens face in their last moments of innocence, on their final night of Halloween before the tradition becomes passé for their age, is never smoothed out. Only one teenager, Ramon is significantly affected by the war during a period where every town in America had paid their price in youth. And while in some ways Stella's friends become the young faces we never see again, disappearing to a foreign land, I still would have loved to see the period reflected in more palpable terms than retro cars and clothes.
Still, none of those "quibbles" match the near disaster of an ending. Øvredal loses control with rushed events whose consequences aren't clearly conceived. He wants the happily ever after, desires to remain open for sequels, and looks to connect the political threads together, but the final moments are conformist in nature. Ultimately, the acts of rebellion that these stories should teach children, become an unrefined instance of giving in. And while such conclusions aren't particularly unnatural for the period: how far is a Mexican boy on run from the law going to make it; the steps to arrive at that point are misplaced. Because while the frights may be enough to sustain this PG-13 film, and they will freak out teens and tweens alike, the conformist ending may be the real scare.