Rating: 3.5/4
Quentin Tarantino is a "thief." He's a liar. The former video store clerk, who mined his aisles for cinematic gold, ceased sheepishly hiding his influences long ago, departing any notion of faithful retellings a little less than long ago. Today Hollywood royalty, the auteur is conferred with the pomp and titles of revisionist and homaganist. You have to make up words to explain Tarantino's work, art in the English language still lacks the requisite descriptions. The ninth film from Tarantino, Once Upon a Time in Hollywood waits for our invention of those words.
Away from the ether, on the L.A. pavement, his newest film isn't a reflection of where he's been, so much it's a fantasy land of where he's at. The self-made outsider now turned insider, Tarantino's far from his gentle night yet further from when he first caught the sun's light. And if waxing poetically about the man who knowingly put Uma Thurman's life in danger, or unapologetically made the use of the N-word his brand, or relied on sheer grindhouse and hyper-violent sequences in morally taut film feels unnecessary, it's because speaking about his work in lesser terms would seem artistically revisionist as well. Tarantino is still Tarantino, for better or for worse. And here, he's for the better.
Once Upon a Time is set in 1969 Hollywood, several months preceding the Manson family murders of Sharon Tate and her house guests. Nevertheless, much of the film swerves past the vast pitfalls of describing the events prior to the homicides, Charles Manson (Damon Herriman) himself is only seen for a couple minutes worth of screen time. If taking the tragic events surrounding a woman's death and seeing them through the eyes of a man's fading career is peak Tarantino, then he's guilty as charged. Tarantino's film centers itself around the friendship between fading-western star Rick Dalton (Leonardo DiCaprio) and his ultra-cool stuntman Cliff Booth (Brad Pitt, giving one of the best performances of his career). Tarantino's guilt is our reward, though it's taken me time to see it.
The last few days, since my screening, turning through Once Upon a Time, has treated me kind. Scenes with the initial importance of a feather on a scale, suddenly come crashing down with the emotional weight of a ten-ton brick on the second, and third measurement. Tate (Margot Robbie), with the initial appeal of a bubbly ingénue: buying matinee tickets to see her film the Wrecking the Crew while innocently planting her bare feet on the head of a theater seat, a woman who dances at a Steve McQueen (Damian Lewis) party as though no one's looking, still remains tragic by film's end. In fact, the mythos of her as an iconic starlet, never fully imbued with any personality, isn't a reflection upon Tarantino, but of our culture built over the decades, a culture where the doe-eyed femme "rises" to angelic heights with little depth left between her and the earth. Tate only exists as a semi-real figure today, Tarantino discovers the essence of her beyond a murder victim (even with the sparse amount of lines for Robbie).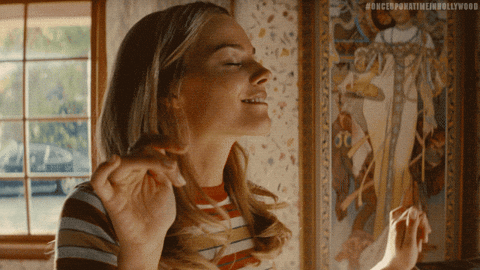 Equally, Al Pacino's Marvin Schwarzs, a producer working to convince Dalton to switch to spaghetti westerns to extend his career, initially appears like mere fodder, an excuse for Tarantino to share his influences from the period and play with the screen's aspect ratio: flashing from television westerns: Bounty Law, b-movie actions, and Italian filmmaking. My initial enjoyment of the Pacino sequence came from my father's love of tv westerns like Have Gun Will Travel and Maverick, and conversely mine as well. But with each turn in my mind, the foreshadowing and characterization of Dalton in these moments become as imperative as a horse to a cowboy.
Nevertheless, the heart of Once Upon a Time beats with the friendship of Dalton and Booth. And surprisingly, Tarantino's ninth movie is a break-up film. The odd couple offer a leisurely relationship, a shared distrust of hippies, of the "new," which pervades their timeless bond: somewhat for good reason as the periphery Mason family offer an uneasy background mood, especially the incredible Margaret Qualley's Pussycat, a Manson devotee. Dalton and Booth have a close relationship. However, while Dalton is a star, Booth is "just" a guy: a fixer and a friend. With a disregard for authority, and a streak of curiosity, in most westerns Booth's macho man would be typecast as the loyal deputy. Still, Dalton and Booth, much like the rest of Hollywood, is on the splits.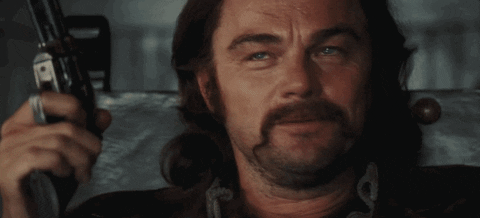 Dalton is the personification of the studio system, representing the changing landscape of acting, of figures surviving in the still new milieu of "the method" as personified in Julia Butters's Trudi, in one of the best scenes of DiCaprio's career and a breakout moment for his young co-star. During the period, contract actors and studios fled to their nemesis — television — for reliable money, and then towards spaghetti westerns to cool their final embers, all the while hoping to turn their studios and careers over to the fresh young crop of auteurs living next door, outside of their bubbles — the Roman Polanskis of the world. The melancholic death of one era of cinema rocks our period just the same. As tentpoles have taken over and original adult fare languishes, we're thirsting as much as Dalton for the ride not to be over, not to be dragged from the dark theaters into the cruel light. In this respect, Tarantino is an early archaeologist. He studies the cave walls of an era he did not live, worships the period's fading colors, building his ahistorical world on the scaffolding of nascent clues, on shards of truth: Arianne Phillips's chic costumes and Robert Richardson's steamy bright cinematography that's dripped in the nostalgia of a California sunrise. Tarantino's love is unquestionable, his methods less so.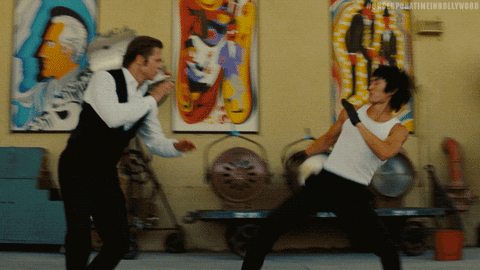 The interpretation of Bruce Lee (Mike Moh) still doesn't sit well with me. Sure the film is revisionist, but picking on the one person of color, and a cultural icon at that, as a buffoon, has the appearance of Tarantino punching down. Still, Once Upon a Time is hilarious. The dialogue often differs from the writer-director's past uncanny ability for tangential conversations masquerading as sage philosophical debates like Pulp Fiction and Reservoir Dogs. Here, they're reminiscent musings. Pitt and DiCaprio offer a colorful bounty, taking mournful scenes off the page and converting them into dark comedic turns for their beleaguered characters. The least violent film of Tarantino's career, that is until an unbelievable and arresting ending, Once Upon a Time instead relies on tracking shots through 1969 Los Angeles, a parade of classic cars, and the director's own recollections of his film collection in script form, eventually concluding with a final haunting shot from a crane resting on high of a driveway as the present and past both wait to occur.
Many have named Once Upon a Time In Hollywood Tarantino's most personal film, already to the point of meaningless cliche, even though all of his early films were highly idiosyncratic, maybe even more so than this, as a starving artist's first creations often reflects their sincerest inner-thoughts before the barriers of stardom arise. Instead, his ninth film should be better known as a return to personal form: the work of a man whose initial penchant for truthful dialogue, centered around life's everyday happenings, made him a into star. It's taken him 30 years to chart a path back to that filmmaking, to that truthfulness that once was so innate, even if the truthfulness doesn't float down to the story. Tarantino is still the revisionist and homaganist, gleefully skipping down aisles of his mind, knowing the achievements of his 161-minute heist. And, once more, Once Upon a Time in Hollywood is a fairy tale, the magic dust of the soul and the shuttering film flicker of the heart.