Rating: 2/4
Critics prior to the screening of the newest, and final installment of MCU's 3rd Phase, were told not to "spoil" the film. Such fears became warranted by the halfway portion of Spider-Man: Far From Home. The sequel to Homecoming, director Joe Watts's turn with the web slinger offers various levels of deception, sharp twists, and continues a disturbing trend by the MCU: an over-reliance on past properties for fan appeasement.
Taking place after the events of Endgame, the world searches for the next Iron Man. However, Peter Parker (Tom Holland), your friendly neighborhood Spider-Man just wants to express his feelings to the girl he loves: MJ (Zendaya). He hopes to do so during their class trip to Europe, "no matter the cost."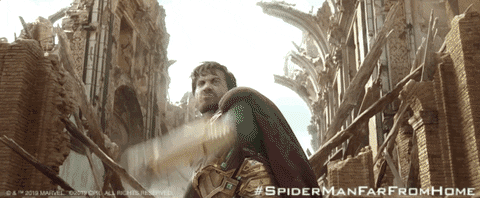 However, off in the distance comes another threat. Elementals: monsters harnessing the power of Air, Water, Fire, and Earth respectively — have arrived from a different dimension. Quentin Beck/Mysterio (Jake Gyllenhaal), a fish-bowl red-caped golden-armored hero from the same dimension, tracks these creatures to Peter's earth. To beat them, he needs Spider-Man, Nick Fury (Samuel L. Jackson), and what's left of Shield's assistance. So yes, the web slinger must contend with the multi-verse… again.
Far From Home never rises above suffocatingly charming. While screenwriters Chris McKenna and Erik Sommers waste little time offering an explanation to Endgame's plot hole: the age of the students in Parker's school after "the Blip," to some comedic effect, they also careen into terribly obvious callbacks and romances.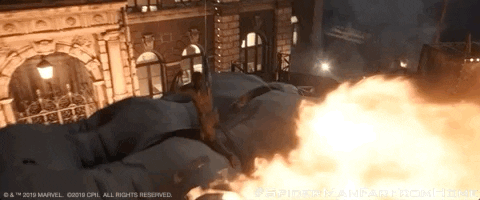 While meant as a crucible for Parker, to demonstrate if Stark's faith was warranted, too often Watts's superhero flick reaches for conspicuous metaphors and symbolism. In two scenes, Parker must literally fight his demons in a hall of mirrors simulation. And while these sequences offer the most breathtaking manipulations of space and CG in a Marvel film, the gotcha appeal quickly fades. In fact, from the film's opening seconds to the final post-credit scenes, Watts and co. are more enamored with pulling the rug than telling a succinct story, even relying on Parker's idiocy (a type of character betrayal) to carry this unhinged narrative.
Running at 130 minutes, Far From Home: like Endgame, finds multiple points of recall to past MCU films. The callbacks are clear points of fan appeasement, and they make even less sense here. Instead, forming needless fat and diverting us from the earnest love story between Peter and MJ.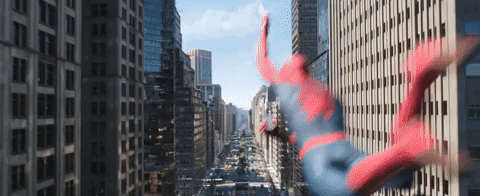 Every actor here rises above the material, as Gyllenhaal gives an off-the-rails performance, jostling between Nightcrawler, Okja, and Velvet Buzzsaw. Holland also delivers his best performance in the role, switching between confused, lovesick, and mournful. He and Zendaya share an awkward, yet sincere and perfect chemistry. The angle of teenage romance sustains Far From Home, even as Happy's storyline makes for a frivolous sideshow while Parker dodging his clueless and infantile teachers Mr. Harrington (Martin Starr) and Mr. Del (J. B. Smoove) never makes for more than a snicker. Worse yet, are the scenes where Peter must contend with the jealous efforts of Brad Davis (Remi Hill): a rival for MJ's affection. Thrown together, Far From Home fights against unnecessary disarray. The only supporting character who finds any firm footing is Ned (Jacob Batalon), finally given a love interest of his own.
"People need to believe, and nowadays they'll believe anything," and oh they certainly will. Somewhere between cross-continental jumping over Mexico, Prague, Berlin, and England, some large-scale fight sequences, and some new suit designs along the way, there's a compelling movie in this narrative mess. However, Far From Home contends with too much baggage. And while the purpose of Watts's film asks Peter to move on, MCU isn't willing to do the same. Instead of capping off a cinematic style and larger story: Phase 3, MCU appears content to rely on quippy jokes, illogical twists, and the past triumphs of their other releases rather than charting a distinctive new path. "They'll see what I want them to see," one character exclaims, and so far, Marvel hasn't been proven wrong yet.