Rating: 3.5/4
"Elevated horror" is bullshit. Like art, a pervading delineation between high and low exists in horror. Coincidentally, the subject of art and the sacrifice required to one's muses inhabits the genre as well: from the Picture of Dorian Gray, to Suspiria, to Climax. Director Joe Begos follows the same tradition: a fever dream in the style of Gaspar Noé, Bliss mixes sex, drugs, and rock n' roll in the pursuit of art.
The film follows Dezzy (Dora Madison), a painter suffering from a creative block. Short on rent, at risk of losing her showcase and agent, with a massive incomplete painting, Dezzy needs to unwind. She goes to her dealer Hadrian (Graham Skipper, who also serves as a producer here), who gives her 'bliss:' a mixture of DMT and cocaine. Dezzy then visits her friend Courtney (Tru Collins) and Courtney's oddball hunkish boyfriend Ronnie (Rhys Wakefield).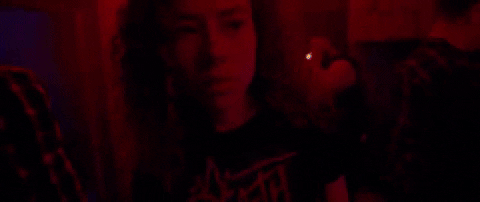 Dezzy gets more than she bargains for in a night filled with sex, drugs, and blood. Lots of blood. And after every fever-dream inspired evening, she wakes to find her painting: a red-flamed edifice of bodies stretching to the sky, more-and-more complete. She also discovers an odd hunger, a craving. Believing such desires are a result of bliss, as well as her creativity, she consumes copious amounts of the drug, even as she coughs up blood and experiences the sweats.
Dora Madison delivers an incredible performance as Dezzy, a straight shooting foul-mouth creative. Fiercely independent, her character refuses help from her on-and-again and-off-again lover Clive (Jeremy Gardner). Madison entirely gives herself over to the role, switching between cocky, to scared, to manic and unhinged and covered in blood. She inhabits the pure determination of her character to create amazing art, no matter the cost.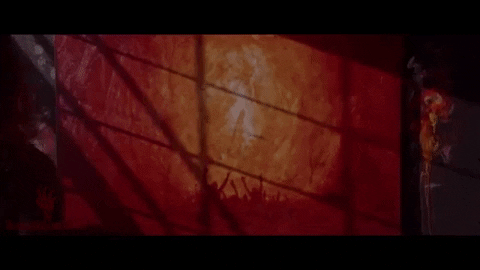 Shot in 16mm, Begos' Bliss isn't La La Land's L.A.. Relying on mounted car shots, the film projects a sweaty, grungy, and grimey landscape. The grainy neon-red cinematography of Bliss contributes to such representations, especially when the blood and bodies flow like whiskey in a dive bar as a rock n' roll soundtrack oozes in the background. The film exhibits arthouse sensibilities, marked by its appearance and creation: Begos and co. relied on zero filming permits and used practical effects.
Bliss ultimately ropes in vampires and more blood, in a story also featuring appearances from George Wendt, Josh Ethier, and Mark Beltzman. Begos concludes his newest work, a self-exploratory one as Dezzy's creative struggles mirrors Begos' real-life creative block, with a true expression of self-sacrifice for one's art as Dezzy kills, paints, and impulsively and manically dances in the center of her apartment. Bliss, running a tidy 80 minutes, paints an ambitious and introspective game changing work.