Rating: 3.5/4
More blood. More violence. More guns, and horses too. Within the first five minutes of John Wick 3, the famed assassin beats a man to death in the middle of the New York Public Library with a book. A hefty book, but a book nonetheless. Throughout this bloody third installment he executes his enemies using guns, knives, swords, horses (yes, he kills people with horses)— and when Halle Berry's Sofia is around, dogs as well. John Wick 3: Revenge of the Canine might have been a more apt title, but director Chad Stahelski's John Wick: Chapter 3- Parabellum — built on new methods of killing and an expansive underworld — is the best film of the Keanu Reeves led franchise yet.
John Wick 3 opens when we last left our "hero," running through the streets of New York after just killing Santino D'Antonio on Continental grounds. Excommunicadoed, the High Table (the dominate and secret underground organization at the head of this underworld) place a $14 million bounty on the ex-hitman's head.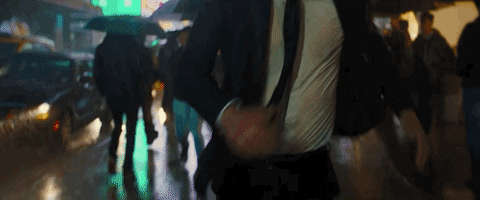 Obviously, if you've not seen Chapter 2 you'll most likely find yourself a tad lost. While Chapter 1 provided what appeared as a standalone story of this heartbroken killer brought back into service to avenge the death of his dog (a gift from his deceased wife), Chapter 2 offered audiences some extensive world building. Screenwriter Derek Kolstad returns with the additions of Shay Hatten, Chris Collins, and Marc Abrams with Chapter 3, which is completely dependent upon those savvy characters and unknown hideaways invented in the previous film, with very little exposition for the unanointed viewer.
With a $14 million bounty placed upon his head, much like Chapter 2, Wick is the target of every assassin, killer, and gangleader looking to boost their pocketbook. He seeks help from multiple sources: The Director (Anjelica Huston, who is all types of cool as the Bulgarian ballet instructor), Jerome Flynn's Berrada — a Casablancian kingpin — and the dog-toting Sofia (Halle Berry).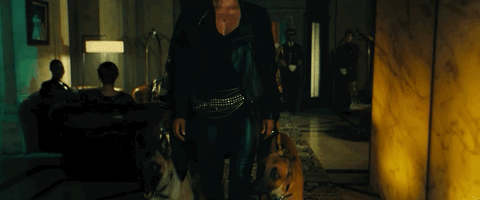 Meanwhile, anyone who previously "helped" Mr. Wick: Winston (Ian McShane) and the Bowery King (Laurence Fishburne) — is visited by The Adjudicator (Asia Kate Dillon): an emissary of the High Table sent to notify betrayers of their punishment. The Adjudicator approaches their job with a-matter-of-fact personality of an accountant, cooly ticking off non-negotiotable orders.
Much like Chapter 2, we do depart New York for a period of the film. This time, John Wick travels to Casablanca (Morocco) to seek a sort of asylum and help from the aforementioned Sofia. The sequence offers a unique locale not soaked in the neon hues of the city, but in the washed-out and blinding sun of the desert.
Berry, who plays the former-assassin with complicated ties to Wick, is pretty much a bad ass throughout. She's just as clean with a gun, yet with more agility than Wick. When the two visit Berrada, they provide the highest body count of the series in an extended shootout that combines guns with Sofia's vicious and bloodthirsty Malinois dogs. The scene is emblematic of a film based more around large-scale choreographed group fighting rather than the one-on-one and hand-to-hand combat of the first two chapters.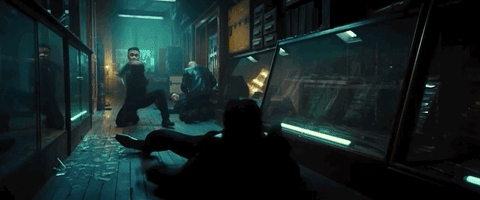 Finally, there's Zero (Mark Dacascos): a deadly martial arts sword fighter with a sushi restaurant who's incredibly funny. In fact, much of John Wick 3 displays a knowing comedic flair. The deaths and gore — at points — are intentionally hilarious and the film does play-up Wick's reputation to comedic effect. Zero and his followers are massive fans of the ex-hitman and lets it be known to him on several occasions (in some ways, they're a personification of the internet-meme culture surrounding Reeves).
John Wick 3 concludes with a high-octane battle scene in the glassy bowels of the Continental in New York. The gallery, a multi-level refracting dream-like area that matched the skyscraper scene in Skyfall, serves as the center of this bloody confrontation between Wick and Zero. Stahelski's value of fluid camera movements with very little cuts, and a reliance on practical stunts and choreography come to fruition here. Reeves, who handles his own fighting and only employs a stunt double when his character is hit by a car, provides some of his best sequenced exchanges yet. While a few of the large-scale battles ensue for a tad too long, stretching the film's runtime to 131 minutes, the Continental clash makes well-earned use of its time.
Originally, John Wick began as a Thriller-Noir, a near graphic novel in the confines of the screen. The concept of an ex-hitman brought out of retirement due to the death of his dog felt like the kind of unlikely action fodder Reeves was doomed to fail with. Instead, the John Wick franchise has been anything else but a failure. Reeves has catapulted back into the movie-going consciousness, as more than just a punchline. Now, much like the man he plays, the veteran Blockbuster actor is a survivor and succeeding and what he does best. John Wick: Chapter 3 – Parabellem, which ends with the possibility of a fourth installment, is another exceptional hit from the actor, and is a bone-crushing triumph.
Image courtesy of Summit Entertainment