Rating: 4/4
Debut films are inherently debuts — usually featuring over-bloated writing and misguided decisions. But every once in a while, a filmmaker appears who avoids the usual pitfalls. Ghana-born writer and director Sam Blitz Bazawule, a hip-hop artist under the moniker Blitz the Ambassador, magically swerves past mistakes that have doomed other beginners. He arrives on Netflix with his stunning and miraculous debut film: The Burial of Kojo — a work that demonstrates his emerging and daring talent.
Opening in an Ghanaian village, an adult Esi (Ama K. Abebrese) narrates the story of her and her father Kojo (Joseph Otsiman) through voice over. Her family: which includes her mother Ama (Mamley Djangmah) — live in poverty in this village surrounded by water. Esi recounts how Kojo shared stories with her whose beginnings only made sense if one knew the ending (a foreshadowing of the events to come).
Kojo makes this village his home because of a tragic event that happened during his youth. Believing only the water may wash away his memories, he's refused to leave even if moving would mean more money for his family.
However, the family's isolationist existence is broken when a blind shaman arrives by paddle boat to the village. Telling of a prophecy involving a black crow hunting a sacred white bird, he leaves the pure bird under Esi's watch to protect. She doesn't know what any of this otherworldly allegory means, and her father is incredulous of any mysticism.
Their world is intruded upon again when Kojo's brother Kwabena (Kobina Amissah-Sam) surfaces on the village. They've not seen each other since Kwabena's wife died in an accident involving Kojo — the main reason he's fled to this watery "sanctuary."
His brother, hoping to put the past behind them, wants Kojo to return to the big city. Their mother is sick and Kwabena has a nefarious plan to make money by sneaking into an abandoned gold mine.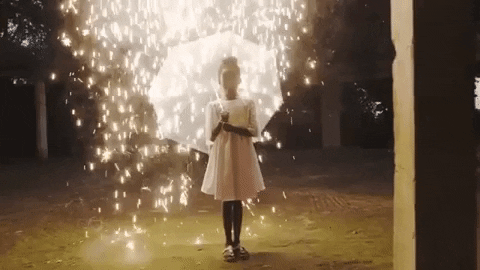 Good directors imagine their everyday worlds as films. Bazawule crafts original framing and camera placements within these Ghanaian villages to add unique drama to even the most mundane of scenes (like a van parking).
Bazawule's cinematic language employs impressionistic images of the water (upside down tracking shots skimming over the waves), reverse, sped up and slow-motion sequences, blue and red color-coded characters, and purple tinted and fractured skies. The gorgeous opening shot of Kojo sitting in the foreground on the right of the frame, as a green Volkswagen Beetle rests ablaze to the left, in the background, while waves wash underneath its sand-sunken tires, is a breathtaking example of a director fully in control of his film's composition.
The aesthetic risks taken by Bazawule are commanding challenges that should be out of reach for a first timer but appear tantalizingly and deceptively innate with regards to him.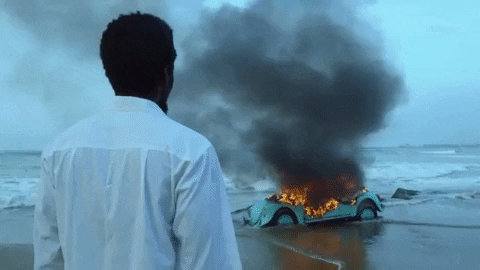 A background commentary on industrial colonization and illegal mining also permeates Bazawule's screenplay. Many of the Ghanaian mines aren't owned by the locals, but by Chinese profiteers and enforcers. The local population either lives in poverty or resorts to crime or both.
The film also employs a telenovella Esi and her grandmother watch. The television drama mirrors the events involving Kojo and his brother. Her father's fate, somewhat foreshadowed by these novellas, arrives suddenly. Conversely, the journey to discover his whereabouts traverses between reality and magic. In fact, Bazawule's film lives on multiple planes — the existential and empirical — and levels, with scenes occurring underground, on water and land, and overhead with multiple bird's-eye views.
There aren't enough superlatives to give this poetic, impressionistic, and daring masterwork. Clocking in at a tidy 80 minutes, Bazawule's The Burial of Kojo is a demanding and utterly brilliant debut from a visionary filmmaker.