Rating: 3/4
"The motherfucker could take a good picture," says photographer Bruce Talamon of his friend Jim Marshall. Yes, the motherfucker could take a good picture and the irascible and talented Marshall would be proud to be given such an onerous title. Director Alfred George Bailey finds the "perfect" subject in his documentary Show Me The Picture: The Jim Marshall Story that's more about dedication to a craft, than a reclamation project.
The film opens with Jim Marshall's assistant, and now executor of his estate, Amelia Davis recounting the near-end of the photographer's life: his coked up and introspective phase. We then enter a time capsule back into the 60's and Haight-Ashbury's Summer of Love. Marshall would go on to take photos of the Grateful Dead, Jefferson Airplane, Big Brother & The Holding Company, Joan Baez, Jimi Hendrix, etc. His other subjects would include Coltrane, Miles Davis, The Beatles, Bob Dylan, and The Rolling Stones.
But the star of the Jim Marshall Story isn't the artists he took pictures of, rather Marshall and his craft. A completely dedicated photographer, he took his work seriously. Carrying his camera wherever he went, like an extension of himself.
He believed in access and the privilege such access granted. To enter into someone's world, to catch the essence of who they are, is essentially photographing them naked even when they're fully clothed. The interview footage of Marshall, archival and recent, demonstrate his passion and knowledge as he's able to recall the reel numbers of his best shots from memory.
And Marshall's breathtaking work speaks for itself. His documentation of America's rising counterculture, during its most problematic, yet artistically inspiring period, is a recording of a generation. With each black-and-white photo that wipes across the screen, the more indebted the viewer feels to this titanic artist.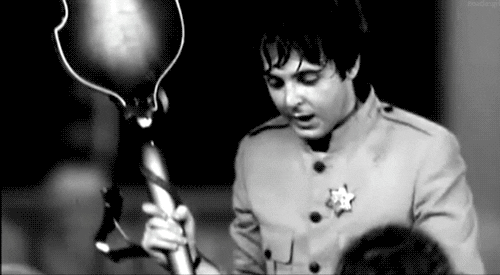 However, there was a dark side to Marshall. Bailey's film, for the most part, doesn't shy away from the photographer's anger, violence, drug addiction, and infatuation with guns. Nevertheless, in the span of a reel: no — in a single shot, Marshall could capture his subject's biography and essence. Show Me the Picture, over its 93-minute runtime, fails to fully capture Marshall. Instead he's guns, guns, guns; knives/guns; a prickly personality; guns — a-quick-temper — guns; a thoughtful heart-guns. A coke addict: More Guns.
But those are points of fact, not the man. Even with interviews from friends like Michael Zagaris and Michelle Margetts, Marshall is just out of reach. And while there are insinuations of domestic violence between between Marshall and his second wife, those light references are glossed over. For a man whose temper was closely associated with who he was, to move past the larger ramifications of his actions (other than his career) feels incomplete — even if the filmmakers were lucky enough to have interview footage of Marshall to use through their documentary.
Running from the 60's to Marshall's death in 2010, there's enough in Bailey's film to warrant the siting down, learning, and marveling. However, I'm not sure we learn much about Marshall that isn't pure biographical fact. Show Me The Picture: The Jim Marshall Story could have been more, but what is there is worth sinking your teeth into.
An official selection of SXSW 2019