Rating: 3/4
There have been many MCU films: over 20 — but none have had a woman's character name as the only credit in its title. Directors Anna Boden and Ryan Fleck's Captain Marvel is the first. It's also the first Marvel film directed by a woman. This latest installment into MCU, has borne unnecessary and vitriolic backlash for a number of sexist reasons (so much so that Rotten Tomatoes had to shutdown pre-release comments on their website). However, Boden, Fleck, and Larson deliver a fun and empowering film that proves every doubter dead wrong.
The film begins in sort-of-a flashback, as Vers/Carol Davers (Brie Larson) is on a desolate battlefield, while a woman she does not know (Annette Bening) stands over her and shoots. She later awakens on Hala, a planet of the Kree (basically the universe's intergalactic space police).
Vers, while possessing extraordinary powers, cannot control her emotions so her abilities are regulated by the Kree and their amorphous technological deity the Supreme Intelligence. Larson, through these early scenes, is stiff and uneven. Instead, Jude Law as Yon-Rogg — Vers' commander — carries the film's initial drama. He's joined by the rest of the team: Korath (Djimon Hounsou), Bron-Char (Rune Temte), Att-Lass (Algenis Perez Soto), and Minn-Erva (Gemma Chan),
This band of soldiers eventually find themselves on a rescue mission to save one of their spies from their staunchest enemy: The Skrulls, a species of shapeshifters. After she's taken prisoner and her unexplained memories are probed by Talos (played by Ben Mendelsohn, who is always the best portion of whatever film he's in), Vers escapes to planet C-57 (Earth) to discover her past, wait for rescue, and defeat the Skrulls and Talos.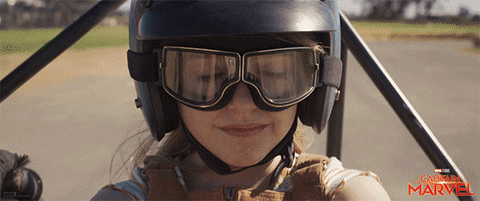 Captain Marvel is an origin story for both Vers and Nick Fury (Samuel L. Jackson). The film, on Earth, is set in 1995. Fury is a low-ranking member of S.H.I.E.LD., with a new partner named Coulson (Clark Gregg). The film's creators used de-aging technology on both Jackson and Gregg throughout the film, and, startlingly, the effect is nearly seamless.
Jackson's Nick Fury in Captain Marvel isn't remotely similar to the one most fans will recognize, in terms of temperament. This is a throwback performance from Jackson that recalls some his lighter 90's roles, such as The Long Kiss Goodnight. Here, he's playful, amused by cats — wait till you see the scene-stealing Goose — and doesn't always follow the rules. When Fury and Vers do team up to stop the Skrulls — the first time he's ever seen an alien — the film becomes a buddy-cop movie. It's on Earth, around the one-third mark of the film, where Larson really takes over the role because while the Hala sequences visually recall Blade Runner and Star Trek, C-57 is a Top Gun homage. The vibe suits Larson, as she embodies the quick, witty, and strong sensibilities of Vers.
With Captain Marvel being the first female fronted MCU film, much of the movie explores gender roles. Vers is controlled by a patriarchal society, whether on Earth or Hala. She's often told what she can't do, rather than what she can. Captain Marvel demonstrates the difficulty of women, of anyone, to find self-empowerment when the world is bereft of role models. Vers' character is a rallying cry to not just women, but young girls everywhere — even when the film isn't at its best.
Captain Marvel will require time for you to fall under its charm. Too often, the film is transfixed by the need to remind the audience that this hero is a woman. While most of these instances are delivered with a wicked feminist punch, some are forced. For instance, when Davers comes face-to-face with Maria Rambeau (Lashana Lynch) — her former co-pilot — Lynch oversells the moment as she explains the importance of sisterhood, love, and grief. The same could be said of Rambeau's daughter Monica (Akira Akbar), who's given some stiff dialogue for a child.
Another instance of myopicy can be found in the film's soundtrack as well. There are several needle drops to golden 90's hits from TLC to Salt N' Pepa, but sometimes they come at the expense of a scene's tone or just the need to keep the film moving. We know it's the 90's, we don't need a Kid's Bop compilation to go along with it (note: there is no actual Kid's Bop compilation in the film). And while Captain Marvel fully embodies the technology and clothes of the decade, often to great comedic effect, sometimes these references become mere artifice (and clunky).
However, the film is always buoyed by its cast. Every part is wonderfully played, hitting the right beats. The action is committed with temperance, but is impactful when it does occur. The overall stakes of the film are low, the enemy Vers fights isn't overly powerful. Instead, the battle occurs within her. But mostly, Captain Marvel is just a good time. Brie Larson proves all the doubters wrong and delivers an origin film that should shoot up many Marvel fans' rankings, while continuing her ascension as a cultural and feminist icon.
Note: there are indeed two post-credit scenes and the film features a few loving tributes to Stan Lee.