Rolling rinks and skating, for many African-American communities throughout the country, is more than a simple past time. Rinks are community centers, therapeutic areas, and hollow ground, and they're disappearing.
United Skates, premiering on HBO on 18 February 2019 at 8pm EST, follows skaters of multiple generations who still call these dwindling and special rinks home. Executive produced by John Legend, the film has been over 5 years in the making for directors Tina Brown and Dyana Winkler. Both Tina and Dyana spoke with me over the phone during the Chicago International Film Festival to discuss how they were introduced to skating culture, the dynamics between two directors, John Legend's involvement with the film, and the overall creation of United Skates.
Tina, you're from Hawaii, and Dyana, you're Vietnamese-Australian, I was wondering what drew you to roller skating in the U.S.?
T: We're both obviously not from the [lower 48], but we both ended up in New York City and we ended up shooting the Central Park skaters here in New York. Who would skate out here in the summer months.
We were just really intrigued. They were an older generation of skaters. Sorta from the disco era. We thought, once they stopped skating or they passed on, that would be it. Roller skating would die with them because, who skates anymore?
When we were filming them, we met these two younger African-American skaters. They told us roller skating definitely isn't dead. It's still alive and underground and if we wanted to see it, then we'd have to come to a professional skate party.
Which, at that point, we had no idea what that actually meant. So the two of us just hopped onto a bus to Richmond, Virginia one night, and walked into a rink at midnight of an international skate party. Where there were thousands of skaters.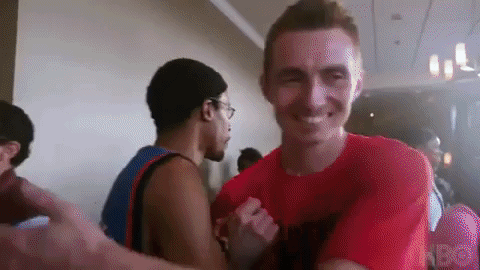 That's a very circuitous route to this story, especially traveling to Richmond, Virginia.
D: And when we got there, we humbly put our cameras down. Because we were sensitive to the fact that we are not African American, and that the right filmmakers to tell a story — we believe — often times come from that community. We really support that. We didn't think this was our story to tell or that we were the filmmakers to tell it.
It was a very beautiful and slow development where every skater that we met that night was from somewhere else: They were from Atlanta, Detroit, Chicago, and New York. We started asking them how they knew to come to this place and why they came. And they started sharing how their rinks are closing down, how it's harder and harder to stay connected to what they love and to their community, and that they were looking for somebody who was from the outside, who would fall in love with what they do, and would have kind of a non-bias perspective because each region has their own music style, skate style, and they're very proud of that.
Having someone from the outside to appreciate all of it as a whole, without taking sides in a way, was something they were looking for. It ended up being a very collaborative process, where we never went into a rink in any city without a skater from that city taking us into the rink and introducing us to the right people. We never really felt that we were pointing our camera from the outside, rather we were being led by them to document what they wanted us to tell. It really was a collaboration from the start.
These rinks, for people from the African American community, appear to be solemn spaces–highly regarded, ceremonial, and honorific–how much of that did you feel?
D: These rinks for the African-American community have become so much more than a place to skate. It's a place to reconnect with your community and your family. It's a place to feel safe, when you live in an area where the streets aren't safe to go home to. It's a baby sitter for a lot of parents who can't afford other forms of baby sitting. It's a church. Some people have said that they leave their problems on an altar. It's absolutely become a lot things for a lot of people.
T: It's also a lot of fun. People go there, as you said, to leave their problems on the floor — to have a really good time. There's also the exercise, the health benefits as well. There are so many layers to what these spaces offer.
D: You know they say, "I might have had a flat tire and left my car on the side of the road. I might have a bill that I'm not able to pay, but when I walk through those doors, and I hit the floor, all of that disappears for those few hours." They're free. They're kind of able to forget about the harshness of reality that we all have in our lives.
You mentioned that the story began when you visited a rink in Richmond, Virginia, how long have you been working on this film?
T: Over 5 years. We went on that trip, May 2013. But we'd been following skaters in Central Park a while before that. It a long, long journey. 3 years in the edit and over 500 hours of footage to go through.
The two of you obviously co-directed this film, what 's the dynamic between two directors as opposed to one?
T: We also produced it, shot most of it, and did the location sound.
It was basically the two of us, out there in the skate world, day in day out. We have a strong friendship. We're automatically attracted to the same things to shoot, which is obviously very helpful if you're the only two people shooting.
We would go to a rink, and we would be at opposite ends of the rink, and we'd end up shooting the same event from different angles. We'd end up shooting each other because we'd be going toward the same activity.
That was really helpful to have that short-hand communication while making the film.
D: We would kind of gravitate. I love getting really up close and personal, and get really tight close-up shots. And Tina very often has a big artistic idea of getting a wider establishing of the space, so that kind of became our go to.
For example, there's a scene where Buddy Love is pulling quarters out of a wall of lockers. I dove in close to get a shot of his fingers pulling out the coins, and Tina set up this beautiful shot where you see him start on one side of this screen and slowly work his way across until he disappears out the other side. Between the two, we were able to cut back and forth to get a really beautiful moment. That became our style as well. That shorthand.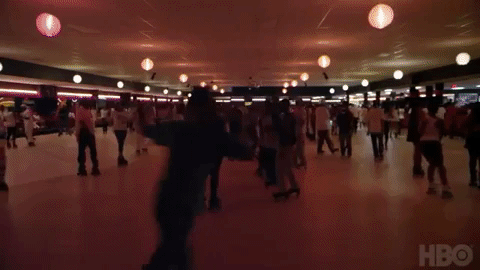 One of the executive producers of United Skates is John Legend. How did he become attached to the project?
T: He's not a skater. A lot of people think he's a skater. But he's very active as a producer, [and] has worked on other documentaries. He's also very social issues driven, as well, with the causes and projects he attaches himself to.
We knew we needed someone of note, a hip-hip artist or musician — African American preferred, that we could attach to the film.
D: When we edited the film, we knew there moments within the film itself that we wanted the personal experience of one of these hip-hop artists that — for example — got their start performing within a roller rink or grew up in a roller rink.
We edited the film with placeholders, where the rest of the film was cut and it would go to a black title card that said, "artist tbd saying something like this," like with the content.
We were able to cut together a pretty solid final cut of the film, and then share that with this list of artists we had created to see who resonated with the film and wanted to be a part of it. So John Legend and his team just really fell in love with the story and the message behind the film. Although John doesn't skate, as Tina said, he felt compelled by the social message behind the film and the importance of the film itself.
There are a few skating styles during United Skates, is there one that either of you particularly gravitate to and why?
T: Oh no, we're not allowed to answer that question! No, no, we love all the styles.
We still walk into a rink even now and are still mesmerized by the skaters, no matter where they're from or what style they skate. We're so in love with the skate culture, the community, and the skating.