Rating: 3/4
When it comes to crowd-pleasing narratives, Sundance has had a good ear to the ground: Eighth Grade, Hearts Beat Loud, or A Kid Like Jake. Director Gurinder Chadha's feel-good musical — Blinded by the Light — follows that tradition by mixing Bruce Springsteen's classic songs with a real life coming-of-age story of a Pakistani British immigrant from the town of Luton.
The film centers around Javed (Viveik Kalra), a high schooler living a pretty miserable life. As an outsider of two cultures, he's caught between his domineering father (Kulvinder Ghir) disapproves of his dream career as a writer/poet, while his classmates have marginalized him. With cultural and filial expectations, and a racist town, Javed has only one real friend: Matt (Dean-Charles Chapman)….though, even that's debatable.
For a while, the poetry he writes for himself and the lyrics he composes for Matt's band are his only escapes. That is, until he meets Roops (Aaron Phagura); a fellow Pakistani who introduces him to "The Boss."
Javed becomes enraptured and enlivened by Springsteen's music, freed from the cultural tie-downs of his father. He begins to dress like Springsteen, think like Springsteen, "What would Bruce do" becomes his guiding principle. He even approaches his dream girl: Eliza (Nell Williams) — a liberal protester more enlightened than her surroundings demand, while pissing off his best friend in the process by making fun of synths (honestly, a good synth sound can go a long way).
Blinded By the Light is one of the most flawed films that still manages to be great. Some of the musical numbers are far too contrived, lacking spontaneity. Randomly breaking out into a Springsteen quote before a song isn't the best transition into an emotional juggernaut of a sequence. Introducing Eliza's parents as conservatives — which is fine — only to insinuate that she dates "controversial" men as a shock to them, unnecessarily muddies an endearing courtship. But mostly, there is something cheesy in how the father is demonized. In a culture, where he himself is being ostracized and beaten, turning him into a complete villain feels unduly alarmist (even if he receives the best comedic bit by referring to Springsteen as a good Jewish example of hard work).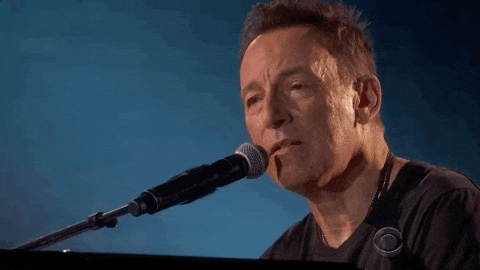 Still, Chadha, the Bend it Like Beckham filmmaker's newest offering succeeds because of the marrying of Springsteen's most memorable hits with the disaffected teen they infect. "Born to Run" playing as Javed, Roops, and Eliza run through the streets of Luton is an exhilarating watch. It's impossible to leave Blinded By the Light and not have the Boss' discography on shuffle. The irony of the marginalized rocking out to Springsteen, by that point passé, creates a kindred relationship — two culturally lost items forming a note-perfect expression of what the artist might have felt when he first penned those lyrics.
Javed's transformation, as convoluted as its form may be: especially with the use of his push-the-narrative teacher Ms. Clay (Hayley Atwell) — does feel earned. And when his quiet mother (Meera Ganatra) does cause his father to see the light — the film's cathartic ending will make you beam and skip down "Thunder Road."