Rating: 3/4
It's been 5 years since the nearly perfect family friendly The Lego Movie stacked across our screens. As tangentially related DC-sequels go, director Mike Mitchell's Lego Movie 2: The Second Part is built for laughs, questions aggressive masculinity, and is a worthy successor to its predecessor — even if the story becomes too convoluted at points.
The Lego Movie 2 finds Emmet Brickowski (Chris Pratt), still, his sun shinny whimsical self. In many ways, Emmet is your anti-hero. Not anti in terms of darker motivations toward murkier ends, but anti in the sense of subverting our current conceptions of a hero.
Emmet's heroic bonafides are put to the test when the Lego Universe is invaded by an alien species that attacks anything that's cute. After 5 years, Emmet's homeland is reduced to an apocalyptic wasteland. Here, cuteness is illegal and brooding is rewarded.
While Wildstyle/Lucy (Elizabeth Banks) has conformed, unfortunately, brooding just isn't in Emmet's blood. He builds a cute home, for himself and Lucy, which attracts General Mayhem (Stephanie Beatriz) to kidnap Lucy, Batman (Will Arnett), Unikitty (Alison Brie), Benny (Charlie Day), and Metalboard (Nick Offerman) for a matrimonial ceremony with Queen Watevra Wa'Nabi (Tiffany Haddish, who does some hilarious voice acting here) — who is searching for a companion. Emmet must go on a quest to rescue his friends and save the world once again before an impending Armageddon.
Through much of the film's tidy 90-minute runtime, The Lego Movie 2 finds its laughs by poking fun at heroic cliches. In order to avoid being brainwashed, Lucy and co. desperately block out catchy-pop tunes. There's a wonderful musical dichotomy in this trial, as we tend to intellectualize serious compositions while dismissing any tune with a hint of populism. Nevertheless, you could be the most ardent hipster and still be entranced and giddy by the ear-worm pop songs at the film's center. Heck, there's a tune called, "This Song is Gonna Get Stuck Inside Your Head" that will literally get stuck inside your head. The film is emblematic of the unyielding power and reverie of good pop music.
While the dichotomy between high and low art provides one avenue for The Lego Movie 2 to subvert cultural trends, the relationship between Emmet and Rex Dangervest — a literal amalgamation of the modern action hero — provides the film's most convincing example of negative aggressive masculinity.
Dangervest is more of a feeling than a character; replete with a tragic backstory, full-blown cockiness, and a devil-may-care attitude, he's everything Emmet should thank his stars he isn't.
But Emmet is self-conscious of his overt positivity, and spends much of the film learning to be more like Dangervest — more like the man he thinks Lucy likes.
The Emmet/Dangervest tandem provide an allegory of Chris Pratt himself. The two characters are supposedly separated by 5 years. 5 years ago, Pratt was the star of Parks and Recreation. This was pre-Marvel, when he was the slightly-round antithesis of a comic-book hero. However, later came Guardians of the Galaxy and Jurassic World (Dangervest is a raptor trainer). Pratt is well aware of the film's allegorical motives, and his willingness to be the butt of the joke is refreshing.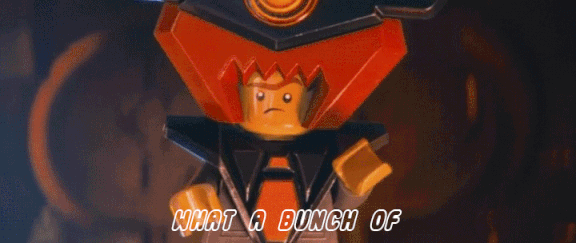 The Lego Movie 2 discovers compelling ground to tell children that there are other heroic tropes. Loneliness and brooding are traits of the card carrying disaffected, which in some respects is attractive, but is lonely nonetheless (check Batman, who receives an uproarious makeover here). Politeness and genuine mirth isn't to be derided, but celebrated. That message succeeds, especially as it merges with the live-action "cool" brother (Jadon Sand) won't play with his "girly" sister (Brooklynn Prince) subplot (where Maya Rudolph and Will Ferrell both have show-stealing cameos).
Not until the final third of the film, does The Lego Movie 2's plot fall apart. Screenwriters Phil Lord and Christopher Miller craft an engaging script, but deep dive into a convoluted and messy final act involving time travel that logically doesn't follow. The need to provide a mind blowing gotcha moment in a kid's movie is, ironically, a demonstration of misplaced confidence. The strength of the film that came before is just enough for the audience to quickly put such logical headstands out of sight and out of mind. The Lego Movie 2, while not perfect, still get the jobs done with the same glee as Emmet.