Rating: 4/4
"I hope that nobody has ever had to look at anybody they love through glass," laments Tish.
Those words—profoundly written by James Baldwin—permeate throughout Barry Jenkins' If Beale Street Could Talk, a film that finds the Moonlight and Medicine for Melancholy director adapting the legendary author's Harlem to today.
When Baldwin wrote this melancholic mix of prosaic and poetic verse, he did so in 1974. By 74′, African Americans had struggled through multiple assassinations and witnessed an adverse "tough on crime" rhetoric target young black males. There's sharp bitterness in Baldwin's writing, causing his words to cut deep through the racial lineage of America. Jenkins, without conforming, adapts Baldwin's fierce rhetoric into a kinder, yet heavier tone. The film, at times a crucible, elicits the novel's gripping and passionate black love story, espousing a bold, strong, and nuanced romance in relation to America's dehumanizing hatred of blacks.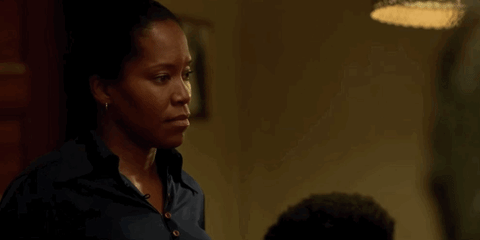 Jenkins, while filming Moonlight, gained permission to adapt the work from the Baldwin estate. Tish (KiKi Layne), the narrator, and Fonny (Stephan James) are two kindred spirits living in Harlem. They've known each other, practically, since birth. Devoted to one another, the two occupy a calm that runs contrary to the storm around them.
Fonny's mother (Aunjanue Ellis) and sisters—Bible thumpers—despise and belittle Tish and her family (Regina King, Colman Domingo, and Teyonah Parris). When Tish invites Fonny's family over to tell them of her pregnancy, it's Ellis' character who degrades the mother of her grandchild as a devil and her grandchild as a bastard seed waiting to be snuffed out by the Lord's light. The editing—cutting between naturally framed shots—builds the tension between the individuals within the frames (the two families) and the dichotomy between the joyous occasion and the simmering familial rivalry, until Fonny's mother is dramatically struck down by her husband (Michael Beach). Such is Jenkins' directing, where sudden shocks of emotion—both elation and tragic—wellspring from simple and intimate scenes.
However, inter-familial spats are small potatoes compared to a racist country. The film opens with Fonny in jail, flashing back between his present-day incarceration, the events leading up to it, and his love affair with Tish. Jenkins receives two assist, one from Baldwin and the other from Layne and James. Tish and Fonny diverge from other black protagonists of the period (and today). They have an emotional depth that evolves past pure survival. So many films about African Americans elevate the day-to-day drudges—they make survivalism the only desirable virtue possessed by blacks. Here, Fonny speaks English and Spanish, is an artist, has larger prospects than as a tradesman. Tish is pure kindness, possessing a quiet strength.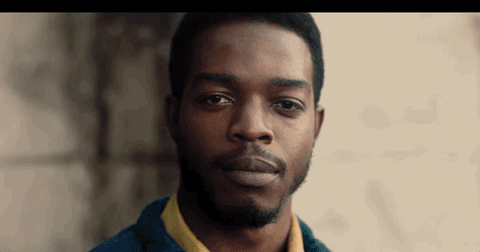 Both are sincerely played by Layne and James, who innately comprehend the elusiveness of love, and the joy that comes when that four letter word is captured. You see their playfulness when they meet Levi. Wonderfully portrayed by Dave Franco, he's a Jewish landlord renting out a demoed factory loft. He's one of the few whites who gives the two a fair shake. The couple's spontaneous sense of humor is on display when Levi and Fonny lift an imaginary stove. As Jenkin's camera tracks through the loft, following the eyes of Fonny and Tish, the dreams of their futures are ignited in front of us. You can hear their reverie as they howl to the purple Harlem sky because after a long search, they've found their home. Only a few minutes later, when Tish is harassed and Fonny nearly arrested for defending her, we witness their pain and America's intruding hate. Their seemingly unbridled future—like many African Americans—runs afoul to the crippling dangers they face.
Jenkins' film doesn't rely on one directorial style to elicit emotion. His film sometimes merges fictional and documentarian storytelling. He doesn't regale us with contrived recreations, instead the director sharply penetrates his audience through black-and-white stills of police brutality and incarceration. Jenkins' stark choice is redefined through Brian Tyree Henry. Henry plays a friend of Fonny's, just released from jail. In one of the most intense scenes of the year, Henry's character recalls his stint in prison. Jenkins doesn't rely on flashbacks to visually narrate the experience, knowing that no footage can truly account for a black man's experience in prison. Instead, he relies on close-ups, extreme close-ups, and a shallow depth of field, focusing on the dark shadows strewn across James and Henry's faces. With Britell's brooding score and our imaginations—as Henry vividly describes not events that happened in jail, but the feelings of helplessness, torment, and fear while there—Jenkins allows the emotional weight of the scene to settle on us with the same intensity and impenetrability as on Henry. He creates a flash point that succinctly describes a strata of the dehumanization blacks face within America, from the racist police, to the prejudicial justice system, to the brutal prison guards. The scene is a masterclass of editing, framing, lighting, acting, and scoring.

And no film this year employs its score better. Britell's compositions—light classical Jazz—flourish with horns and a piano, joined by tremolo strings that bubble from the ether. Like a symphony's reoccurring patterns and phrases—perfectly mirroring the emotional and cyclical period of events—they're doomed to repeat a tormented, yet passionate dance of love and race.
Thankfully, Jenkins hasn't lost his love of Wong Kar Wai. Created with James Laxton's rich cinematography, he joins Britell's score with an orchestra of primary colors. The hues of yellow, blue, and green do not merely appear, but vibrantly elicit the co-existing states in black America of turmoil and tranquility. Beautiful shades of red—a color flooding and overwhelming the screen—showers the composition in pure love. Much like Moonlight, and its direct inspiration In the Mood for Love, Jenkins uses the diner as love's breading ground (a diner where Fonny's friend, played Diego Luna works). But unlike those films—relying on the unrequited—Tish and Fonny's intimacy can barely be contained by the evocative red soaked booths.
Their lives fall apart—and the film climaxes—when Fonny is falsely accused by a Puerto Rican woman of rape. She flees home, partly with the DA's assistance. Tish's mother, financed by the black market hustles of Tish and Fonny's fathers, goes to Puerto Rico to confront the accuser. There are a million ways the scene could fall apart, a million millisecond missteps. Jenkins and Regina King avoid them all. The director never questions the victimized, never creates a shred of doubt of her rape. Instead, the scene's conflict centers around misidentification. King in a tense and poignant moment, empathizes with the woman. She wants so desperately to free Fonny, while understanding that he's not the only victim here. King is a true force throughout If Beale Street Could Talk, a wonderful mix of her impenetrable will and layered, but fiery emotion.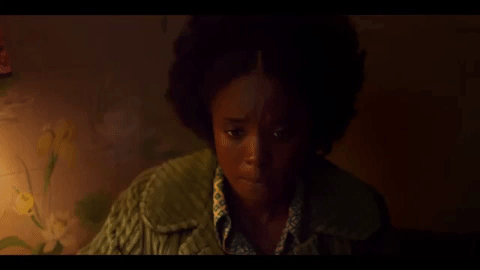 Jenkins delicately handles what is an inexhaustible magic wand, with his cast unflinchingly committed to his and Baldwin's appeal to the heart, lineage, and love present in black history—a love rarely displayed in its multivariate forms on film. And, when this tumultuous story draws to an end, Jenkins resolves it stoically.
The low-key ending may be elusive for some, yet the hints Jenkins provides should be obvious. Fonny and Tish have been robbed, taken in the same scam that still takes black men and women today. They're told their dreams don't matter, their hearts don't matter, their love doesn't matter. They should give in, give in to perception and give up. Nevertheless, they, even in physical and financial chains, are still somehow free. Still free in the meeting room of a jail because Jenkins doesn't end with seeing Fonny through glass, he ends with Fonny and Tish and their son having a family lunch during visiting hours. Jenkins, as with Moonlight, and much like Baldwin, whispers a love that cannot die.      
An official selection of the Toronto International Film Festival (TIFF): 2018.