Rating: 3.5/4
Yes, another Spider-Man film. Yes, another Marvel movie. The comic book franchise bonanza continues….and may never end. If you're like me, burned out by capes, masks, special abilities, and such, then you'll probably approach directors Bob Persichetti, Peter Ramsey, and Rodney Rothman's Spider-Man: Into the Spider-Verse with either apprehension or a careless shrug. You—and I—would be wrong. Not only is Spider-Man: Into the Spider-Verse a top 5 Marvel film, it's the best Spider-Man adaption ever.
Ok. Ok. So, let's start from the beginning. The film opens with Miles Morales. Morales (Shameik Moore), an Afro-Hispanic teenager, is bilingual, starting life at a new advanced school away from his friends. With a complicated relationship with his demanding police officer father (played by 2018 MVP Brian Tyree Henry), Miles finds a closer bond with his laid back and secretive Uncle Aaron (Mahershala Ali). Miles accompanies his Uncle to an abandoned subway where a multi-dimensional spider bites him. If the idea of multi-dimensional spiders seems preposterous to you, then clearly you've been lucky enough not to have ridden the J train.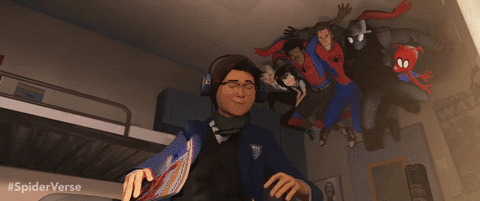 Nevertheless, all goes awry when Morales observes Spider-Man trying to stop Kingpin (Liev Schreiber) from using an underground multi-dimensional collider (once again, ride the J train if you doubt me) that could rip apart the universe with a massive black hole. In the ordeal, Spider-Man is killed leaving Morales with a "gubber" to learn his new powers and shut down the collider before Kingpin can use the machine again.
However, he's going to need help. This Spider-Man may be dead and gone, but there are others in different dimensions. Into the Spider-Verse regards the past with reverence and each iteration of the web slinger should remind constant readers of the multiculturalism and odd novelties in the Marvel universe, from Spider-Ham (John Mulaney), to Penni Parker (Kimiko Glenn), to Spider-Man Noir (Nicolas Cage), and Spider-Woman. Each presents a different variation of the web slinger's origin story, while the older Peter B. Parker (Jake JohnsonC), a divorced has-been from another dimension, demonstrates the well-worn personal costs of said heroics.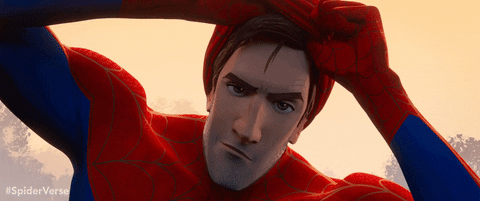 In the middle of the Spider-Man storm is Morales, a new figure representing what our cultural realities look like. In a memorable scene, while walking to school, we see Morales switch between languages, creating conversations with everyone of every background. The interconnection of racial backgrounds and languages rarely appears in the current Marvel Universe (at least not until recently with the addition of Black Panther). The scenes makes clear why Morales despises his new nearly white homogenized school. The lone bright spot of said school, is the mysterious Gwen Stacy (Hailee Steinfeld).
Into the Spider-Verse perfectly combines comic book graphics and animation, whether they're the use of speech bubbles or captions. The vivid almost 3D animation gives us a world of exquisite action sequences. We become completely immersed in the world of comic book fantasy, pushing the bounds of anything we've seen in any other film (and not just the acrobatics of the web slinger).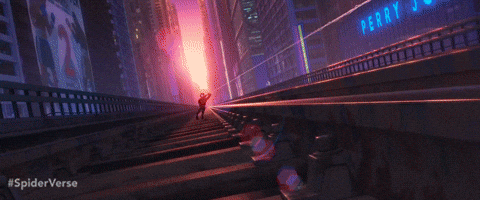 Nevertheless, the relationship between Morales and Peter B. Parker drives the film. The mentorship, forming a near parental bond, between the willing and the reluctant hero as they battle Kingpin and Doc Ock (Kathryn Hahn) reveals regret, remorse, and rebirth. Just as Morales breathes new life into the Marvel film genre, so does he to Parker. And just as our once pristine heroes have come to tarnish their once stellar reputations, they still have the wisdom to warn us of the avoidable pitfalls.
Maintained by a sharp and funny script, Spider-Man into the Spider-Verse actualizes the makings of a hero by paying homage to the past, with callbacks to previous Spider-Man films, and reinventing itself for the future. Through exceptional voice acting, especially by the scene-stealing Nicolas Cage, the film finds laughs and empathy even with these little known heroes. It will take a leap of faith to go see Spider-Man into the Spider-Verse, but it's a leap worth taking.
p.s. the post-credit scene is to die for.