Rating: 3.5/4
Winner of the Palme d'Or at the Cannes Film Festival, an engrossing, complex, and surprising family drama, Shoplifters is more than its title reveals. The Japanese film, directed by Hirokazu Kore-eda, creates neither saints nor villains. In fact, the principle brilliance of the film derives from an ability to instantly transform its central characters into one and the same.
Like a scene from Pickpocket, the film opens with what appears to be a father and son looting from a supermarket. The two, relay hand signals and blocking to take items at will. On their way home, they find a little starving girl, Yui/Lin (Miyu Sasaki), with signs of abuse waiting outside her house in the cold. Taking and feeding her at their home, they unwittingly kidnap the girl. They figure, better Yuri live with them than return her.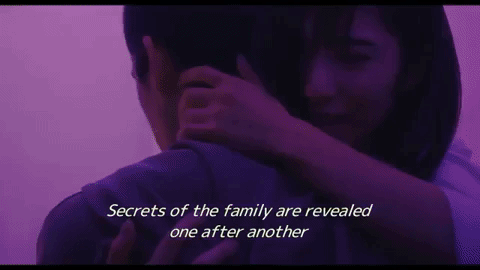 Others living in this house, the size of one room, are the mother (Sakura Andô), her sister Aki (Mayu Matsuoka), and the grandmother (Kirin Kiki), while the father and son are Osamu (Lily Franky) and Shota (Jyo Kairi), respectively.
The family does work, but none make enough to survive without stealing. Almost everything they eat comes from their theft and every person has a scheme. Most of their side hustles are relatively harmless, however, soon we find mysteries at the center of this family that find us questioning their morality.
The title, Shoplifters, isn't a direct translation. The Japanese name, Manbiki Kazoku, literally translates to "Shoplifting Family." That iteration more closely resembles their relationship and the story's aims. Kore-eda's film questions the definition of family and the possibility of choosing who to call mother, father, brother, sister, etc.
Few of the home's occupants share direct blood relationships. Nevertheless, much like Yuri, the family they've "chosen" appears realer than the ones they have left behind. Shoplifters defines familial bonds not only through survival, but shared memories and tender moments. These warm embraces arrive in waves, washing over us with their affection for one another. They crest and foam when the family visits the beach or when an affectionate love scene is shared between father and mother (a scene that plays more as young naive lust than weathered courtship).
Shoplifters sinks and steals itself into your heart, even when dirty secrets reveal themselves to you. For the audience, Hirokazu Kore-eda delicately balances ethical judgments in contrast with love. Though we never untangle the difference between right and wrong in Shoplifters, we find ourselves emotionally invested in this inescapable work of art.