They're slowly disappearing, a culture, a history, a way of life. Like much of Black America's American heritage, the roller rink, once communal and a source of pride, has been bulldozered and rezoned for outside interests. United Skates, produced by John Legend and directed by Dyana Winkler and Tina Brown, crosses the nation from Los Angeles to New York, to Chicago, and North Carolina to bring us into the skating community.
The documentary has the same appeal as California Typewriter, exposing a once way of life to a new generation. And much like each typewriter is expressive of the person, the skating style from city-to-city says much about that city. It expresses a vibe. The film also  follows several skaters, Phelicia Wright, Reggie Brown, Buddy 'Love' Alexander, Josh 'Batman' Smith, etc., as they watch their once beloved skating rinks close.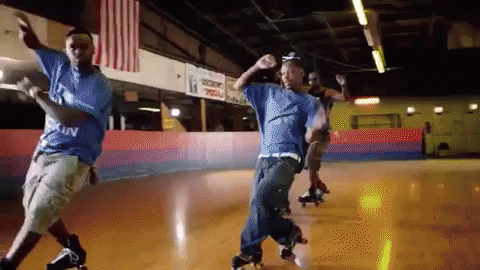 However, the film is more than skating, more than the intricate and beautiful motions these skaters demonstrate. It documents community and racial pride, pride that comes from not only black culture, but from black owned businesses as well. It charts the near demise of this art form, along with the demise of the "inner-city" and the continuation of segregation and institutional racism.
There's a tangible line between a community that has activities to bring itself together rather a state of nothingness that can cause a rise in violence and crime. Because in much of these areas, when the rinks are subtracted, then truces between gangs dissolve and youths become ensnared in precarious environments. But what's most revealing about United Skates is how the scenes of African Americans skating run counter to the absolute negative images of blacks on the news. In 2018, African Americans shouldn't need humanizing, but here we are. And here is United Skates, sliding, rolling, splitting into the American consciousness.
An official selection of the Chicago International Film Festival (CIFF): 2018.