Rating: 2/4
Based upon the life of French novelist, Sidonie-Gabrielle Colette, who would later go on to write Gigi, director Wash Westmoreland's interpretation of her spends too much energy on her significant other rather than the namesake of his film.
The film's story, written by Westmoreland, Richard Glatzer, and Rebecca Lenkiewicz, is linear, as we bounce, almost annually, from 1892 in Saint-Sauveur to Paris in 1910. In the film's infancy, we meet Colette (Keira Knightly) as her future husband Henry "Willy" Gauthier-Villars (Dominic West) courts her in her parents' rustic home. Willy is a raconteur from Paris, worldly in ways Colette is not. For instance, when the two marry and move to Paris, Colette goes out to a party with Willy where she dresses in provincial garb. The contrast between her and the rest of Paris stimulates the growth the audience sees in her throughout the film, from guarded country girl to androgynous socialite who carries on affairs with women.

While Colette is confident, yet not completely self-assured, Willy is the very definition of boisterous. He's a gambler, an alcoholic, and a "con-man." The term "con-man" could be used lightly here, as Willy fashions himself as a writer, but has a team of ghostwriters underneath his name or brand: "Willy novels." Today, we'd see Willy as a sham. But ghostwriters and brand publishing were very popular during the 1800's. The concept of a singular omnipresent author hadn't really taken hold yet.
Still, Willy is also a philanderer and a taker. When his finances fall to near bankruptcy, and he's incapable of paying his ghostwriters, he enlists the help of his wife Colette to write novels. Sure enough, Willy does help to hone the novels as an editor, yet he takes credit as the sole writer. The Claudine books, written by Colette, go on to become "the toast of Paris." If this seems out of place, it really isn't. Even at the turn of the 20th century, female writers weren't taken seriously, and were hard to sell among publishers (though the hard to sell came down to publishers not believing in women writers' ability, not the readership's lack of faith).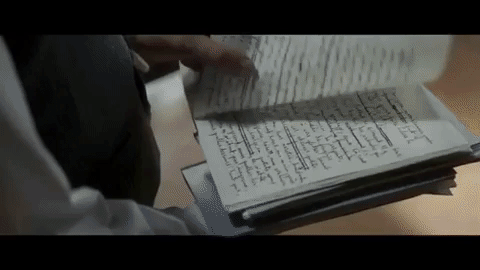 As a style, the film does balance the absurdist, almost hedonistic, tone of belle époque Paris. One notable scene is the pantomime, as Wague (Dickie Beau) essentially lip-syncs with a female singer. The scene is beautiful, and wonderfully serves two maters.  First, it is a slice of salon Paris life and art, and then, is a commentary on the theft of the female voice.
Colette features many of these wonderfully balanced sequences, however, it's often not enough as the film falls away from its main subject. Willy fills the screen far too much when he's there. Heck, he's filled this review. Many of the film's best moments come at the expense of Colette, with Willy reaping the benefits. Not just because their relationship might have been that way, but because Willy is portrayed as childish and boorish. We're given far more of what Colette might have found attractive in him, than why she'd want to leave him.
Colette then becomes a film of good intentions, unwilling to commit to a serious conversation centering around patriarchy, in turn making it not worthwhile to its subject or its audience.