Rating: 2.5/4
A long-distance relationship. A Romance-Comedy set to music. A single father.
Juliet, Naked, based upon Nick Hornby's novel, is a mix of Music and Lyrics and Sleepless in Seattle. A washed-up singer finds a new muse, a long distant one at that, while reassembling his shambled life. The singer is Tucker Crowe (Ethan Hawke), who's nearly lost count of his kids and the women who birthed them. He's a former acoustic guitarist who's music and image wouldn't be too far from Jeff Buckely. His muse is Annie (Rose Byrne), a sensible English woman, as most English women are, living in a seaside town and working at a museum. The town, much like her, has had little happen in its existence. For the town museum's Summer of 64 Exhibit, their centerpiece is a beached-shark's eye. 
Annie and Crowe meet through a music forum. In fact, it's Tucker Crowe's forum made up of rabid fans that include Annie's boyfriend: Duncan (Chris O'Dowd). The film opens as Duncan provides us with a Youtube-esque fan-made bio of the elusive Crowe, who hasn't played live in over two decades. Duncan is a super fan, and his unhealthy obsession provides much of the comic relief. O'Dowd gives a repulsive character more definition than what was probably on the page. In fact, he's the best portion of the film as he demonstrates today's fan culture and the total investment into an artist's work.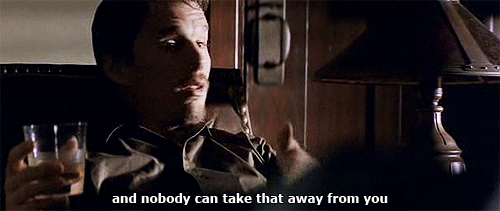 The music of Crowe has that simple 90's vibe of the forlorn and misunderstood singer-songwriter with a pickaxed well of emotion. Ironically, Annie complains to Duncan that the demos are just unfinished acoustics, when in fact Crowe's finished music demonstrates little difference in production value. That's the inherent difficulty with making demo-esque recordings for film, they never have the sound quality of a real demo. Granted, there's a suspension of disbelief here, but I'm admittedly a bit picky with sound.
Hawke as Crowe plays that chill, but punchable face character that's littered his career. Crowe is pretty much a rom-com version of the dad in Boyhood. The only difference here, is Crowe's ability to distill those hard earned life lessons into self-help emails to Annie, who's led a fairly mundane existence, while he takes care of his son: Jackson (Azhy Robertson).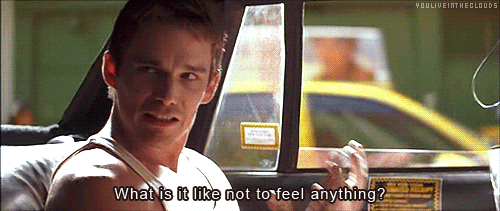 Juliet, Naked's root weakness is the ease which comes with it. While the film is hilarious, it provides few obstacles and the ending is a foregone conclusion. Instead, the film bounces between lighthearted, yet insignificant gambits that do little to pull the plot or develop the characters past their initial phobias. Indeed, even the situation with his estranged kids remains somewhat neutral, with the biggest missed opportunity happening with his and Juliet's child: Grace. There was a pocket where Crowe's character could have been examined and pillaged, and it instead it passed by the wayside.
Juliet, Naked won't stick with you as much as Crowe's music hangs to Duncan or the intimate and fragile performance of Waterloo Sunset by Hawke in the film. Nevertheless, it's still a laid back and enjoyment passage of time. See it for some good music and laughs.