Rating: 4/4
His debut feature as writer and director, Bo Burnham's Eighth Grade is as "Gucci" as the girl at the center of its story. Focusing on Kayla, an eighth grader voted "Most Quiet" by her fellow classmates, it's an ode to the pre-teens of the Instagram generation.
The film opens with Kayla recording her vlog, as Burnham's camera slowly zooms outward. His outward zoom is a visual introduction to this character who records her videos in 240p. Kayla (Elsie Fisher) is your typical eighth grader, still trying to figure out her place in the world. Most of her vlogs are for advice, many of them reflecting on the things she wish she could be or what's in her subconscious: "the real [her]," "How to be confident," and what it means to grow up. In her videos she's earnest, funny, and understanding, which is a major shift to how she interacts with her father.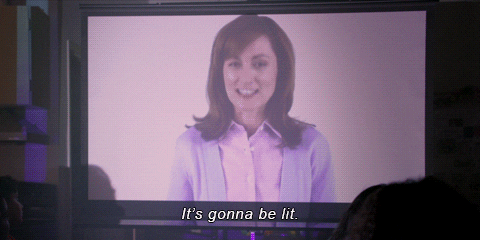 Mark (Josh Hamilton), Kayla's father, is a dork. His relationship with his daughter is fraught as Kayla is at that age where you realize your parents are uncool. Listening to music with headphones, music that's part of a playful score and soundtrack, she ignores her father. Her phone is an anti-social defense mechanism and separates her from her dad. Often their dinner scenes are filled with outbursts from Kayla against a dad who wants to know about his daughter's life. Fisher and Hamilton are seamless in their chemistry and are perfectly cast for their respective roles.
Meanwhile, Burnham's sense of humor shines throughout. The film is filled with small vignettes of middle-school life, where Burnham's comedic sensibilities shines through, such as an out-of-time and out-of-tune orchestra scene, the heavy bass music that comes on whenever Aiden (Luke Prael), Kayla's crush, comes on the screen, and the awkward conversations between father and daughter.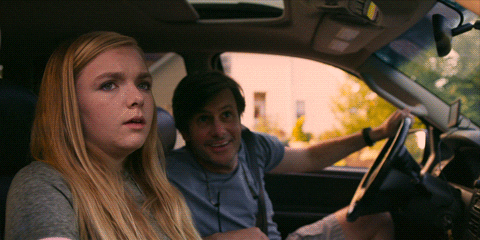 However, it's not enough to say that Eighth Grade is a perfect distillation of life as an eighth grader. Nor is it enough to believe that it teaches us that adolescence brings a voice to be respect. It's a study of toxic and non-toxic masculinity. From the car scene, which might be the most frightening scene of the year. Yes, more dreadful than anything in Hereditary or A Quiet Place. The car scene, a near molestation is akin to the end of Get Out. Your mind works faster than the scene. You're aware of what could happen and hope that it doesn't. I don't want to fully divulge the sequence, but it's a study of toxic masculinity and the position young women are put in by overly aggressive men and how the aggression seen in men, even when they're older, begins when they're younger.
Nevertheless, Eighth Grade is also a reminder of what non-toxic masculinity can bring. Kayla's father is overly understanding to the point of madness and complete passivity. Half of Kayla's outbursts could have easily brought another reaction. Eighth Grade isn't just about what means to be a pre-teen. It's what it means to be the parent of a pre-teen in the digital age. It demonstrates these parenting skills, much in the same fashion as the father-daughter relationship in Hearts Beat Loud. The kindness demonstrated, the understanding, and the willingness to allow for a pre-teen daughter to have a voice, to say that her voice means something more than the whinings of a child. That concept is a new age belief. It's also a powerful reinforcement, from a young age, that a girl's voice does matter.
This reinforcement is brought about through Kayla's vlog. As she gives life advice, meant to be therapeutic for her and those around her, it's given approval by both her father and Kennedy's cousin, Gabe (Jake Ryan). In fact, while they do give her their approval, that approval isn't needed. Kayla didn't start her vlog for her father or Gabe's approval. She did it because she thought it would help others, possibly other shy girls like herself. And as the film progresses, what little male approval she does "need," from toxic and non-toxic men, isn't required. She grows into someone who's fully confident of herself. It's stunning that a film such as this came from a male perspective. Though one gets the feeling, as much as Burnham denies it, that these experiences are somewhat autobiographical, the seamlessness to translate them to a female perspective is incredible.