Last night, I saw Aladdin at the Music Box Theater (Chicago) as part of their Tuesdays of Robin Williams films in July. It was the first time I had watched Aladdin on the big screen. Every time before that was on a streaming serving. Before that, on DVD. Before that, on VHS. However, when I watched it this time, an idea sprung to mind: "Aladdin is the most important film of the Disney Renaissance." Built upon star power, power ballads, and exoticism, it provided a template for every Disney film that came afterwards.
It seems odd today, but peak of their career movie stars did NOT do cartoons. Cartoons were usually relegated for those, now regal, actors and actresses who were on the back nine of their careers. By the time Vincent Price did The Great Mouse Detective, he had been "downgraded" to made-for-tv movies and series. George C. Scott was also confined to television before he did The Rescuers Down Under. Mickey Rooney, once the biggest male star in Hollywood had also grown dim by the time The Fox and the Hound started shooting.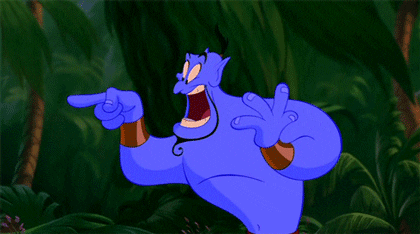 Once Disney did get an aging star to add some gravitas to their film, it would typically fill in its cast with relative unknowns or up-and-comers. Kurt Russell, before stardom, was in The Fox and the Hound. The closest Disney got to a peak-level star was Geraldine Page in The Rescuers. By that point, she had 5 Academy Award nominations, and still had two more coming, along with a win for The Trip to Bountiful.
That changed with Robin Williams. By 1992, Williams already had Academy Award nominations for Good Morning, Vietnam, Dead Poet's Society, and The Fisher King. He'd had a hit television series and sold out comedy tours. Williams was clearly at his peak.
And though a film like The Lion King, which had been in production for three years, had a stacked cast even before Williams and the success of Aladdin, when The Lion King was released, its cast included, Jeremy Irons (fresh off an Academy Award win for Reversal of Fortune), Matthew Broderick (who'd been in Ferris Bueller's Day Off, Biloxi Blues, and Glory), and James Earl Jones (fresh off of Sneakers, The Sandlot, and Patriot Games), it wasn't the same as having Robin Williams. The Lion King and Aladdin were also the first Disney films to make over 500 mill. at the box office. By the time Aladdin had dominated, and The Lion King carried the baton, the conclusion was clear: animated films were a good and easy way to make money for either struggling actors or successful stars.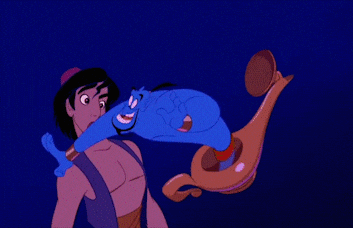 And while The Lion King might have proven that on its own, even if Aladdin hadn't been released, it was Williams (who was a bigger star than Irons, Broderick, and Jones, respectively) who started the perception.
Now, it's not uncommon to see Dwayne 'The Rock' Johnson in Moana, or Idris Elba and J.K. Simmons in Zootopia, Oprah and Terrence Howard in The Princess and the Frog, and that doesn't include Pixar titles too, like The Incredibles, Monster's Inc., Finding Dory, etc.
Aladdin was also the first Disney film to rely on power ballads from well-established artists. While Beauty and the Beast had Angela Lansbury providing a light and sweet vocal for the title track (and later, a relative unknown in Celine Dion releasing a version with Peabo Bryson in a forced ballad style) and The Little Mermaid had a fun diddy, such as "Under the Sea," "A Whole New World" was made in a different mold. The song fit the big chorus power ballad pop-90's, and led to songs, such as "Circle of Life," "Can You Feel the Love Tonight," "Colors of the Wind," "Go the Distance," "Reflection," and "You'll be in My Heart." Tarzan and The Lion King also relied on established artists, like Phil Collins and Elton John, respectively.
But it was Aladdin, which relied on Peaboy Bryson and Regina Belle to perform "A Whole New World," that perfected a trend that Disney stumbled onto during Beauty and the Beast. With the Peabo Bryson/Celine Dion rendition of "Beauty and the Beast," Disney almost had the star power, but it didn't have the song. Much as they tried to gussy it up, "Beauty and the Beast" wasn't a prototypical power ballad. It lacked the large chorus. But "A Whole New World" was finally the right combination of star power (Regina Belle was a more established American singer than Dion), chorus, and genre. It made that combination commonplace in Disney films thereafter.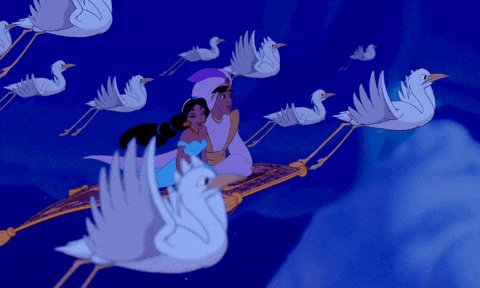 But most importantly, Aladdin ushered in an age of exoticism for Disney. Later, The Lion King would be set in Africa, Pocahontas depicted Native Americans, Mulan was set in China, and Tarzan set in the jungles of Africa. Disney transitioned from stories solely depicting white heroins in familiar Grimm's fairytales to stories either set in far-off lands, or often, with non-white heroes and heroins. The change caused a diversifying in the types of faces scene on screen that later permeated to The Princess and the Frog and Moana. However, it also brought with it an unfortunate Disney template: that of stereotyping and a lack of accurate casting among its lead actors. No one in Aladdin is non-white. Save for James Earl Jones, Robert Guillaume, and Whoopi Goldberg, The Lion King is entirely white too, especially its leads; Simba, Nala, Scar, Timon, and Pumba. Mulan is played by Ming-Na Wen, but Mushu is played by Eddie Murphy. And Aladdin features some cringe-inducing stereotypes, such as the characters aping Middle Eastern accents. Pocahontas features a relatively diverse and accurate cast, however, the film also morphed Native American history to the defaulted white-savior model.
In hindsight, it's astounding how pivotal Aladdin was. Though Beauty and the Beast began the Renaissance and The Lion King was its high-water mark, in terms of box-office gross, Aladdin, in terms of song choice, musical performers, exoticism, and the ability to reel in major actors would become the basic Disney (and later Pixar) template until today. Those factors make it the most important film of the Disney Renaissance.