An official selection of Cinepocalypse (Chicago: Music Box Theater), where it made its World Premiere. 
Rating: 3/4
A pop-culture sensation before a second of footage appeared on screen, Gags from director Adam Krause is a unique take on the killer clown sub-genre of horror.
Initially, Gags's notoriety took root in a real life publicity stunt. Clowns adorned with black balloons littered Green Bay for 8 days. There was no explanation for them and their pictures were taken and shared across the web. The stunt had been pulled by Krause to promote a 15-minute short, the first iteration of Gags. The success of the short resulted in Krause creating a feature length, which premiered in Chicago at Cinepocalypse.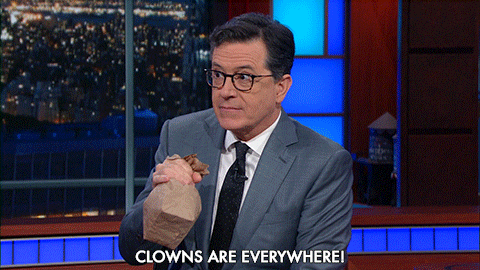 The feature length is depicted from four perspectives: the police, a newscaster, a few dumb teens, and a vigilante podcaster. The groups live in Green Bay, Wisconsin, and for 8 days there has been a clown spotted across the city with black balloons. The clown never says a word, and actually, barely moves a muscle. His balloons, when popped, are filled with a poisonous powder and his "movements" are supernatural in nature. That is, he appears and disappears at will.
The four, in some way, are all hunting for Gags (Eric Heuvelman). The vigilante, Charles Wright (Aaron Christensen), is an internet tough guy who bets his followers that he can shoot the clown dead. The reporter, Heather Duprey (Lauren Ashley Carter), is searching for the ultimate story: the apprehension of Gags. In the process, three teens: Tyler (Michael Gideon Sherry), Chris (Squall Charlson), and Sara (Halley Sharp) skip across the city, with Chris dressing as a Gags impersonator. Their storylines are joined by Chrissy (Tracy Perez) and Jake (Evan Gamble), two cops who are hunting down leads related to the clown.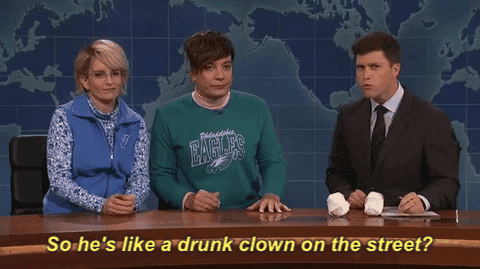 The film is surprisingly hilarious, especially the relationship between Duprey and her cameraman, Dale (Wyatt Kuether). Throughout the film Duprey and Dale trade barbs, as Duprey demasculates her laid-back sidekick. Kuether in these moments is a comedic hero and provides the strongest and most nuanced performance of the film. Charles Wright provides a mirrored relationship with his cameraman, as well. 
This hilarity is juxtaposed with the overall tenor of the film. In many of the more tenuous scenes, the found footage and rapid editing provide intense and creepy overtures. Often these scenes are set to a background of carnival clown music. Gags, set at night, is a dark film. That darkness provides cover as our vision is often obscured. In its styling, the film obviously holds a debt of gratitude to previous horrors.
Nevertheless, Gags is often too faithful to its use of found footage. The footage sometimes distorts and shutters at inopportune times. It takes us from implicitly knowing that Krause is depicting that style to explicitly. In short, the found footage never coalescences to the point that we are unaware of our awareness.
However, Gags is still a unique watch as it's not about a clown who mutilates (he's also not going to provide many chase scenes). But much like the slow-moving zombies of yesteryear, the presence is more important than the speed. The presence of Gags taps into our general subconscious unease around clowns. And the film not only has an undercurrent of subconscious unease, it hovers over our current media landscape. Much of the terror within the film could be solved with a few characters not putting their lives in danger for a little extra exposure. The film, even for its budget, is a class example of how to make great culturally conscious horror on the thinnest of margins. But mostly, it's a fun and creepy time worth having.